Toshiba Electronics Europe (TEE) has launched a series of low-profile, rail-to-rail output gate-drive photocouplers for directly driving low- to medium-power IGBTs and power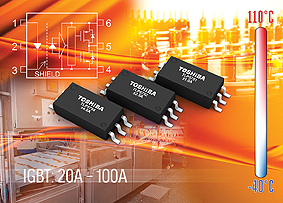 MOSFETs.
The TLP5751 offers a peak output current of ±1.0A and can drive power MOSFETs and low-power IGBTs up to 20A. The ±2.5A TLP5752 and ±4.0A TLP5754 will drive power MOSFETs and IGBTs with current ratings to 80A and 100A respectively. Operating temperature is from -40°C to 110°C and target applications include home appliances, factory automation equipment and inverter designs where high levels of isolation and stable operation across an extended temperature range are required. All of the new photocouplers are supplied in a low-profile SO6L package. This package is 54% the height of Toshiba products that use a DIP8 package and requires just 43% the board mounting area.
Despite their low height, the devices have a guaranteed creepage distance of 8mm and an isolation voltage of 5kV.
Toshiba Electronics Europe
www.toshiba-components.com