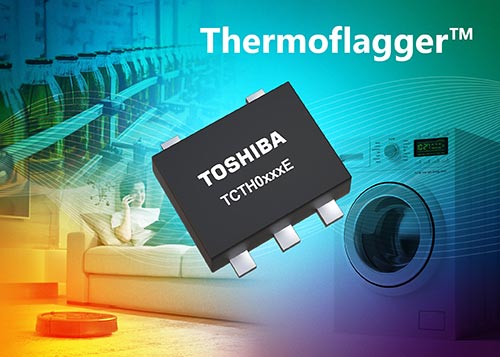 Toshiba Electronics Europe GmbH ("Toshiba") has launched two over-temperature detection ICs that are the first in its Thermoflagger™ family. The devices can be combined with positive temperature coefficient (PTC) thermistors to detect over-temperature conditions within electronic systems, in order to take countermeasures if necessary. They are suited to a wide range of applications including mobile devices, home appliances and industrial equipment.
Thermoflagger™ devices offer a simple and inexpensive, low current consumption solution capable of connecting to several PTC thermistors. Additional over-temperature protection solutions can be realized by combining them with general temperature sensor ICs.
Two devices have been announced. These are the TCTH021BE, which has a non-latching function for the FLAG signal when it detects abnormal states, and TCTH022BE, which has a latching function for the signal.
The new TCTH021BE and TCTH022BE ThermoflaggerTM products each have a built-in current source and are used in combination with PTC thermistors which elevates their ohmic resistance values significantly once a certain temperature level has been exceeded. An increasing temperature close to any PTC will cause the voltage to rise at the PTCO pin, resulting in the FLAG signal being activated, and thereby detecting an over-temperature condition. By connecting multiple thermistors in series, over-temperature detection for multiple locations is easily possible.
The products are housed in the small, standard SOT-553 package (Toshiba's package name: ESV) measuring just 1.6mm x 1.6mm x 0.55mm. They feature a low current consumption (IDD10U) of 11.3μA (typ.) and the PTCO output current can be selected. Typically, IPTCO is 10μA with a strong accuracy of ±8%.
Operating supply voltage (VDD) can be in the range 1.7 to 5.5V and the devices can operate at temperatures between -40ºC to +125ºC.
Both products allow users to configure over temperature detection for an entire electronic device easily without significantly impacting the size and power consumption of the device.
Both products in the TCTH0xxxE series will start shipping today.
More information can be found here:
https://toshiba.semicon-storage.com/eu/semiconductor/product/linear-ics/detail.TCTH021BE.html
https://toshiba.semicon-storage.com/eu/semiconductor/product/linear-ics/detail.TCTH022BE.html