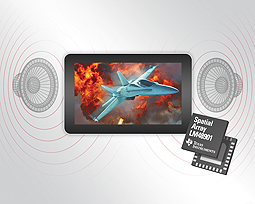 Configurable spatial processor provides immersive cinematic sound experience
Texas Instruments Incorporated introduced an integrated circuit (IC) that simplifies the design and programming of spatially-enhanced audio systems for multi-speaker portable products, including laptops, tablets, sound bars and sound docking stations. The National LM48901 quad Class D spatial array is the first in a family of innovative audio ICs that employ distributed sound processing coupled with loudspeaker array technology to produce an immersive audio experience for space-constrained applications. For more information and to order samples, visit www.ti.com/spatial-preu.
Tablets, for example, have wide-format screens that deliver impressive high-definition video, but the overall experience is hindered by their tightly spaced speakers that produce audio that is lacking in clarity and depth. They suffer from a limited soundstage, where multiple speakers sound like only one speaker because they are placed close together. The LM48901 and companion software tool solve this problem with easy-to-use audio effect programming that converts a small soundstage into an immersive sound experience that can be deployed across a manufacturer's entire product portfolio, from tablets to sound bars with two to 16 speakers.
Key features and benefits
• Complete audio solution: IC integrates a spatial processing DSP, four Class D amplifiers, 18-bit stereo analog-to-digital converter (ADC), phase-locked loop (PLL), and I2S and I2C interfaces.
• Simplified audio effect programming: Easy-to-use software tool speeds development by eliminating the need for algorithm tuning and in-house DSP experts.
• Immersive audio effect: Enables differentiated products that defy physical system size to provide an expanded soundstage superior to competitive solutions.
• Flexible multi-channel capability: Enables multiple LM48901's to be daisy-chained to support up to 16 speaker channels and multiple subwoofer configurations.
• Integrated 2 W speaker drivers: Four Class D speaker drivers deliver 2 W per channel of continuous output power into a 4-Ohm load with less than 1-percent total harmonic distortion plus noise (THD+N) to simplify system design and reduce bill of materials.
Texas Instruments
www.ti.com