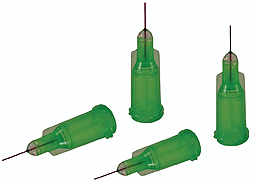 Techcon Systems, a product group of OK International and a leading provider of fluid dispensing systems and products, introduces the new 34-gauge dispense tip to its product line. With an inside diameter range of 0.003-0.0045″ (0.076-0.114 mm), the new 34-gauge tip is ideal for dispensing micro shots of low-viscosity
fluids. The 34-gauge tip consists of an electro-polished stainless steel cannula for consistent material flow and a double helix polypropylene hub with lime green coloring for easy identification. Additionally, the new tip is silicone- and chloride-free.
Conveniently available in both bulk quantity (TE734025-1000) and packs of 50 pieces (TE734025PK), the 34-guage tip is available beginning October 10, 2011 with a standard lead time of 10 days.
Techcon Systems
www.techconsystems.com