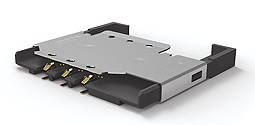 TE Connectivity (TE) launches new 1.95mm SIM card connectors to offer customers a connector solution that fits into various consumer devices such as cell phones and tablets with limited space for SIM cards.
These new connectors offer partial shielding that provides a stable connection for the SIM card. Besides, the shield helps hold the SIM card in its position, eliminating the need for a complex mechanical design within the device.
The SIM card connector features a card stop and guide to help prevent bending or damage to the contacts and boasts pre-loaded contacts which increase the working range of the connectors.
Additionally, holes are included on the top of the connector — making it possible to mount components underneath it. All TE's 1.95mm SIM card connectors are RoHS (Restriction of Hazardous Substances) compliant.
For more information on TE's 1.95mm SIM card connectors, please visit www.te.com/industry/mobile devices.
TE Connectivity
www.te.com