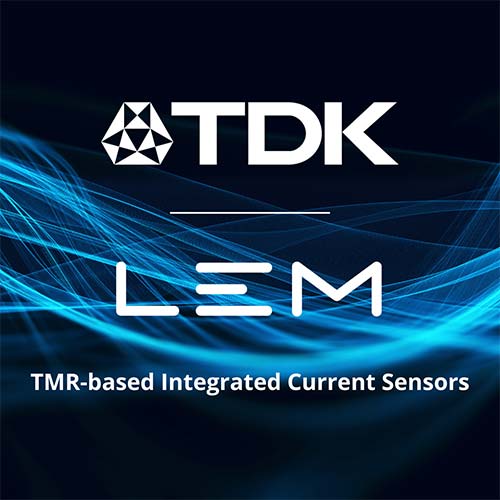 TDK Corporation (TSE:6762) and LEM International SA (SIX:LEHN) announce that they have entered into a development agreement of custom TMR dies for next-generation integrated current sensors.
TDK, a leading magnetic sensor solution provider, headquartered in Japan will develop tunnel magnetoresistance (TMR) dies for LEM. LEM, a leading current sensing expert, headquartered in Switzerland will incorporate these TMR dies into their integrated current sensors (ICS), a critical component used in rapidly expanding electrification applications like onboard chargers (OBCs) in EVs.
This collaboration will further position TDK's TMR technology to succeed in the automotive and industrial markets, two sectors in which LEM brings deep expertise, especially in booming segments such as energy storage, motor drives, and solar inverters. TDK expects to bolster its market position on magnetic sensors by offering superior products that support existing and upcoming applications in market trends like energy transformation (EX) and digital transformation (DX).
LEM selected TDK as a partner based on its best-in-class technology performance – including accuracy and noise – as well as reliable supply, automotive quality, and process maturity. The current sensor market is fragmented and requires high volume and cost-effective products. For this promising market, TDK and LEM will produce a sensor that is faster, more accurate, and with lower noise than existing solutions.
"As the technology leader of magnetic sensor solution provider, we are proud of this collaboration," said Takao Tsutsui, CEO of the Sensor Systems Business Company of TDK Corporation. "The combination of our TMR technology and LEM's expertise in electrical measurement will generate outstanding new products for various market segments requiring electrification".
"LEM is convinced about the benefits of this collaboration, and feedback from our customers has already been very positive regarding a next generation of TMR-based integrated current sensors," stated Frank Rehfeld, CEO of LEM. "These positive reactions, the megatrend in electrification, and TDK's and LEM's deep expertise will contribute to the success of this collaboration."
Consumer behaviors and escalating global factors in multiple geographies and legislative bodies are driving growth in electrification. Europe, Asia, and North America are seeing an uptick in sales of EVs as incentives grow and fossil fuel use is discouraged. Yole Développement identifies promising applications and positioning by key players, such as TDK, and LEM, to drive the magnetic sensor market to $4.5B in 2027*.
*     As of 2022, according to Yole Développement's Magnetic Sensor 2022 Report
Glossary
ICS: integrated current sensor
TMR: tunnel magnetoresistance
Main applications
Automotive
Industrial
Electric vehicles
Onboard chargers
Autonomous mobility
Main features and benefits
Reduced noise
Reduced power consumption
Increased sensing speed