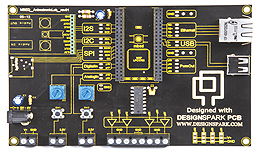 AnimatronicLab Board
The DesignSpark Synergy AnimatronicLab breakout board opens up the mbed Microcontroller module (M3 and M0) to a whole range of functions, by allowing quick and easy access to its features via the I2S, I2C, SPI, Ethernet and USB pin headers. Primarily aimed at rapid prototyping, its set of features make this a highly functional platform for a wide variety of applications, and the inclusion of convenient test points for probes, oscilloscopes and even protocol analysers brings a new dimension of visibility in the lab environment.
The board is particularly useful for experimenting with Animatronics applications. The on board half bridge driver allows the easy control of stepper motors, actuators or even LED's. The board allows you to plug in the DesignSpark AudioCODEC board for High Quality Audio through I2S. Together the boards allow experimentation with movement, light and audio all on the same platform.
AudioCODEC Board
The DesignSpark Synergy AudioCODEC breakout board can be plugged in directly to the AnimatronicLab for rapid prototyping. Based on the highly popular TLV320AIC23B audio codec from Texas Instruments, it uses the industry-standard I2C/SPI bus for control and I2S for data transfer and is capable of audio playback and recording at a range of resolutions and sample rates.
The TLV320AIC23B is a high-performance stereo audio codec with highly integrated analogue functionality. The analogue-to-digital converters (ADCs) and digital-to-analogue converters (DACs) within the TLV320AIC23B use multibit sigma-delta technology with integrated oversampling digital interpolation filters.
DisplayBoard

Utilising a separately plugged in mbed Microcontroller module, the DesignSpark Synergy DisplayBoard gives the user a wide range options to experiment with.
The DisplayBoard is an array of six large seven-segment display modules and associated drivers. It's flexible design means it can display a wide range of data types. The seven-segment display modules have a digit height of 56mm, with each segment using four high-efficiency LEDs that provide a highly visible display. This board is ideal for displaying, Clocks, timers, counters, for either stand alone or via a network.

The driver used is the NXP PA9635 – a 16-channel LED driver that has an I2C interface and PWM capability, enabling control of brightness and segment flashing. The drivers are split into four: three driving pairs of LED displays, with the fourth controlling the red LED's between each segment.
Source: www.designspark.com

Aurocon COMPEC
www.compec.ro