Solution, Smart, Internet of Things, Value Add, Time to Market, Production Ready, Simplified API, Cost of Ownership, Partnership, Collaboration…you decide!
We work in an industry that thrives on "Buzz Words". They are all too easily used, but not always so readily explained. If you're lucky enough to be able to visit Electronica this year, then I challenge you to put this to the test – as you go round the exhibition, every time you see one of these Buzz Words used, ask the vendor: "What do you really mean?" and "How do you justify your use of these words?". Apart from some awkward silences, you may find some surprising answers!
It's easy to call something "smart" and in recent years companies felt almost compelled to. I mean, it wouldn't help your marketing message to call your product "stupid", would it?! So we have the Smart Grid, the Smart Home, Smart TVs, actually Smart Everything. Smart implies intelligence, rich features and connectivity, whatever the reality. And what really is the Internet of Things? People talk about this as though it's something for the future. But it's here today – I already have a multitude of devices in my home which are connected to the internet – the fact that my TV and AV rack needs its own Ethernet splitter is witness to that! Having said that, there is no doubt that there is a plethora of new concepts riding the wave of the internet and it's right to be ready to address the opportunities that are presented. It's just wrong to use IoT as a Buzz Word, as though everyone instantly understands what you mean or how your products are relevant. An explanation is clearly needed.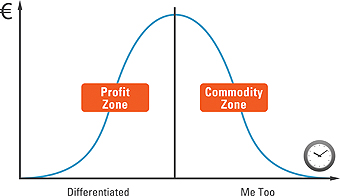 At Renesas we see a real challenge for our customers related to the IoT. As already mentioned, there is an explosion of opportunity created by the internet – it's estimated that there could be 60Bn IoT connected devices in the world by 2020. In order to establish and maintain a profitable business you need to constantly find ways to differentiate your product offering and re-invent what you're offering to customers (see figure 1).
In an increasingly fast moving world, there is no such thing as standing still…you either continue to differentiate, or you fall quickly into the commodity zone and can only compete on price. Competitive pricing is of course always essential, but if price is your only differentiator then you're in trouble.
So what does this mean for customers and their development teams? They are under ever more pressure to spin new designs and to differentiate their products in an increasingly crowded market. For example, one of our customer partners already has a backlog of more than 2 years scheduled development work for their hard pressed design team. They simply have too much work and it will get harder as the marketing department demands more new features, coupled with lower development costs.
As we endeavour to help meet the challenge, one of the areas we are investing is in offering a wide choice of convenient solutions. "Buzz Word!" I hear you say. And you would be correct. "Solutions" is another example of an over-used and under explained Buzz Word, whilst it's increasingly popular amongst semiconductor vendors. The problem is that all too often the customer gets some un-warranted, un-proven sample code which they have to spend man years proving, debugging and certifying. Or worse still, a bunch of library files that are poorly documented, difficult to understand and impossible to validate, certify or maintain. Where is the "Value Add" in that? That's the key question…..
"Value Add" is central to a number of programmes at Renesas, right through the product life cycle. Let's study some examples in detail.
1. Something for nothing.
Our RX-MAX programme offers customers the chance to secure high value, software products from leading industry leading partners including IAR, Micrium, Segger, Express Logic and more.
The available software can range from a safety certified real time operating system to a choice of convenient communications stacks. The software is provided completely free of charge, for qualifying projects (terms and conditions apply) as an investment by Renesas and our partners to simplify and cost reduce product development.
More information is on our website (just google Renesas RX-MAX). Browse our website and you'll find plenty of other opportunities to get free development boards and starter kits.
2. Solve-IT!
At this year's Electronica we are launching a line up of 15 "solution" kits branded "Solve-IT". We strive to offer much more than just products …. sometimes a complete product solution, with soft­ware included.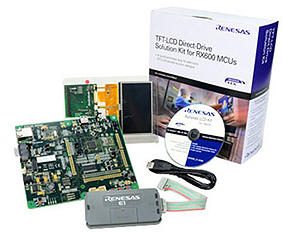 This takes away some of the challenges for in-experienced designers who need to get to market sooner. Sometimes this is by enabling quick evaluation of different software products from competing third parties, whilst at other times we go the whole way and integrate full, royalty free, license free source code.
A great example is our new RX-111 motor control solution kit (YROTATE-IT-RX111) which offers an out of the box solution capable to drive any 3-phase permanent magnet synchronous motor (also called Brushless AC motor).
Shown in figure 2 above, the kit provides:
• Auto-tuning of the current proportional-integral (PI) coefficients: Kp, Ki
• Identification of intrinsic motor parameters: Rs, Ls, Λm
• Real-time visualisation of the motor phase, current and step response.
Both kits include an intuitive PC graphical user interface (GUI), providing engineers with a ready to use inverter reference prototype that enables them to drive their own motors in a few clicks.
They also feature a sensorless vector control algorithm, which is used to accurately control the speed and the torque. This algorithm uses flux weakening in order to achieve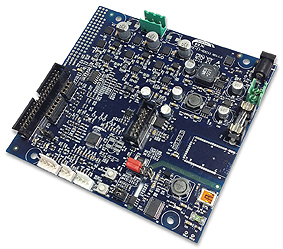 rotation speeds higher than the nominal speed of the motor.
Each kit contains an inverter board, a 24VDC permanent magnet AC motor, a CD-ROM including the embedded software source code, the PC GUI, the board schematics, the bill of materials, Gerber files, user manual, quick start guide and the power stage schematics / Gerber files.
3. Reducing Time to Market.
How many times have you started out on a new development project and shortlisted the possible candidate products, only to discover they're on long leadtimes and that you have to wait weeks or even months to start your evaluation or early development?
Our Star Product programme guarantees that when you choose our most popular devices, you'll find they are available ex-stock from all our leading distributors. This applies to development tools and sample device quantities.
Renesas backs this up with pre-production quantities held centrally so you can start up your new design project in next to no time, radically reducing your time to market.
4. Cost of ownership.
Too often decisions are made purely on a component cost without considering the bigger picture (see figure 3). Of course, the component price is important and with a world leader like Renesas you can be sure this will be competitive.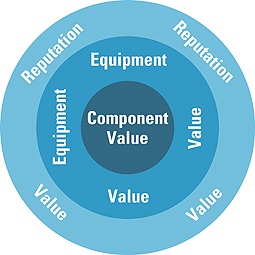 But you should consider much more than this in making a purchasing decision. Suppose you're selecting a microcontroller for a washing machine. Perhaps the device costs €4, whilst the appliance costs €400. Let's say you manufacturer 100K washers every month. A 10% saving in the device price would save you a total of €40,000 each month. Sounds eminently sensible to take the saving, doesn't it? But at what price? If you can't rely on the product quality and you discover a bug for example. It could result in a production stop for say 2 weeks whilst you trace and resolve the problem. Cost? A mere €20M of lost sales! And when you consider your company's reputation the long term damage can be significant – lost market reputation leading to reduced demand (and consequentially lower prices and profits) and retailers not wanting to stock your appliances because they cannot depend on reliable deliveries. The damage can be unestimable.
5. The MCU Journey.
There was a famous NSPCA (National Society for the Protection of Cruelty to Animals) television advertising programme in the UK a few years back. The punch-line was "a dog is for life, not just for Christmas". They were trying to influence families to stop buying cuddly puppies as Christmas presents for the kids, only to realise a few months later that there are some harsh realities to pet ownership – they need walking, they need feeding, they need looking after when you're on vacation…and some more unmentionable things! It was in this sense that Renesas launched its MCU Journey Programme, recognising that the initial purchasing decision is only the beginning of a journey during which you need support, not only to get the first design completed, but to migrate to other family devices when your requirements change, or even to completely new generations of devices if you continue using the product for many years. And the time will always come when demand has declined and the product doesn't meet the requirements of latest technology. At this time you need clear and honest information on product life expectancy and we deliver this through an online product status checker.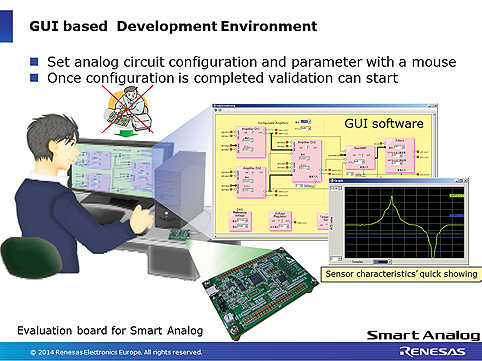 Let's return briefly to the subject of solutions and Buzz Words. On display in Europe for the first time ever at Electronica this year is a complete new comer on the block. Known as Smart (sic!) Analogue, this unique product combines analogue and digital die in a single package. The analogue section is designed for sensor signal conditioning, whilst the digital part manages configuration and tuning as well as application functionality. Together with a simplified GUI configuration tool (see figure 4), Smart Analogue makes a convenient entry point for newcomers to analogue circuit design, whilst delivering exceptional added value for more experienced designers through, for example, the possibility to re-tune the AFE during a product's lifecycle as sensor characters vary with age. Again, this Smart Solution simplifies design and speeds time to market.
Smart Analogue packs an awful lot in a very small package – 36pinFBGA (4mm × 4mm)、32pinVQFN (5mm × 5mm). The device is built around a true low power RL78 microcontroller, together with 32KB flash, 4KB of data flash and 8KB RAM. The Analogue Circuitry includes a 24-bit Delta-Sigma A/D with Instrumentation AMP, 10-bit SAR A/D, 12-bit D/A, Configurable AMP × 3ch and Temperature Sensor with Sensor Bias. Available in industrial temperature range up to 125°C. Now how smart is that?!
Come and see for yourself the simplicity of designing with Renesas' Smart Analogue on booth 243 in hall A6 where you'll find the product, combined with a ready to use IO Link interface in our Sensor Solution Kit.
I started this article with a challenge – as you go around this year's Electronica Exhibition, whenever you see a Buzz Word being used, challenge it. Check out if there is any substance or real meaning behind them. And we welcome you to try the same at Renesas. We are sure you will find that, true to our traditions, we do what we say and we say what we do. Our theme for Electronica this year is "Connect with Tomorrow" as we enable customers to connect with solutions to meet design challenges for the future and prepare themselves for the Internet of Things. Too many Buzz Words?!
www.renesas.com