Analog Devices Evaluation Board ADSP-CM408F Cortex-M4
This Mixed-Signal Control Processor integrates dual high precision 16 bit ADCs and an ARM® Cortex-M4TM processor core with floating-point unit operating at 240 MHz core clock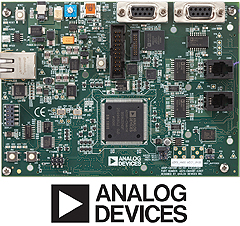 frequency. It also integrates 384KB of SRAM memory, 2M byte of flash memory and accelerators and peripherals optimised for motor control, photo-voltaic (PV) inverter control and other embedded control applications.
• DSP-CM408F mixed-signal control processor
• Two 16-bit ADCs with 8 inputs each
• 10/100 Ethernet PHY
• 40 character TWI display interface
• Expansion Interface
RS stock no.: 798-9711
Beaglebone Black Rev C
This low-cost, community-supported development platform for developers and hobbyists
features 4GB of built-in storage. The eMMC storage is faster, and the move to double the amount of included storage will allow the developers to make another change: The Rev C board will ship with Debian Linux instead of Angstrom Linux.
• Processor: Sitara AM3358BZCZ100 1GHz ARM Cortex-A8
• Graphics engine: SGX530 3D, 20M Polygons/sec
• SDRAM memory: 512MB 800MHz DDR3L
• Flash memory: 4GB 8-bit eMMC
• Video out: HDMI 1280 × 1024 max resolution (microHDMI)
RS stock no.: 775-3805
Texas Instruments TMS320C6748 DSP Development Kit (LCDK)
The scalable platform breaks down development barriers for applications which require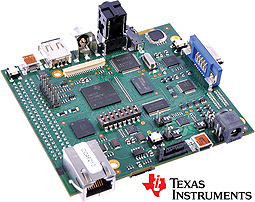 embedded analytics and real-time signal processing, including biometric analytics, communications and audio. The low-cost LCDK will also speed and ease your hardware development of real-time DSP applications.
• Integrated floating-/fixed-point DSP with up to 456 MHz performance
• Software, expansion headers, schematics and application demos
• SDKs, DSP/BIOS RTOS, drivers, stacks and protocol, algorithm libraries, flash and boot utilities and StarterWare
RS stock no.: 798-3716
Atmel SAM4S-XPRO ARM Cortex M4 Development Kit
The evaluation kit is a hardware platform to evaluate the ATSAM4SD32C microcontroller.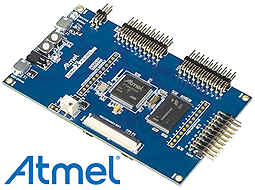 With the Atmel Studio integrated development platform, gain easy access to the features of the Atmel ATSAM4SD32C and see how to integrate the device in a custom design. Includes an on-board Embedded Debugger and no external tools are necessary to program or debug the ATSAM4SD32C.
• ARM Cortex M4 processor microcontroller ATSAM4SD32C
• Two crystals: 12MHz,32kHz can be used as clock sources for the SAM4S device
• LCD display header and three extension headers
• 2Gb NAND Flash for non-volatile storage
• SD card connector
RS stock no.: 800-7620
Tiva™ C Series TM4C123G Launchpad Evaluation Board
The Tiva™ C Series TM4C123G LaunchPad Evaluation Kit is a low-cost evaluation
platform for ARM® Cortex™-M4F-based microcontrollers from Texas Instruments. The design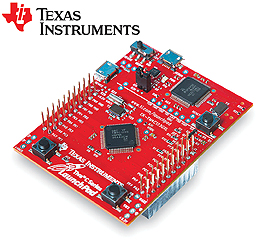 of the TM4C123G LaunchPad highlights the TM4C123GH6PM microcontroller with a USB 2.0 device interface and hibernation module.The EK-TM4C123GXL also features programmable user buttons and an RGB LED for custom applications. The stackable headers of the Tiva™ C Series TM4C123G LaunchPad BoosterPack XL Interface make it easy and simple to expand the functionality of the TM4C123G LaunchPad when interfacing to other peripherals with Texas Instruments' MCU BoosterPacks.
• TM4C123G LaunchPad Evaluation board
• On-board In-Circuit Debug Interface (ICDI)
• USB Micro-B plug to USB-A plug cable
• Preloaded RGB quickstart application
• ReadMe First quick-start guide
RS stock no.: 795-0729
PIC32MZ Embedded Connectivity Starter Kit
The PIC32MZ EC Starter Kit provides the easiest and lowest cost method to experience the high performance and advanced peripherals integrated in the PIC32MZ Embedded Connectivity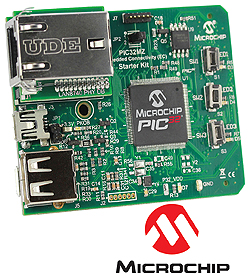 (EC) MCUs. This starter kit features a socket that can accommodate various 10/100 Ethernet transceiver (RJ-45) plug-in connectors for prototyping and development.
On-board PIC32MZ2048ECH144: 200MHz, 2MB Flash and 512KB RAM
Includes 10/100 Fast Ethernet LAN8740 PHY Daughter Board
Features Energy Efficient Ethernet (IEEE 802.3az) and Wake-On-LAN functionality
• Integrated debugger/programmer
• USB powered
• 10/100 Ethernet
• CAN 2.0b, HI-Speed USB 2.0 host / device / dual-role / OTG
• 4MB SQI Flash
• Can be used with Multimedia Expansion Board II
• Can be used with PIC32 Expansion Board using a PIC32MZ adaptor board
RS stock no.: 796-1586
Aurocon Compec
www.compec.ro
www.designspark.com