Silicon Labs introduced a new 32-bit hardware and firmware development kit designed to accelerate the design of Made for iPod/iPhone/iPad (MFi) accessories and help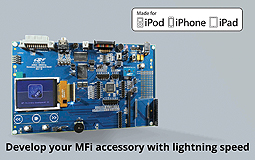 product manufacturers get to market quickly. Leveraging Silicon Labs' ARM® Cortex®-M3-based SiM3U microcontroller (MCU), the MFI-SIM3U1XX-DK development kit supports the all-digital Lightning connector and protocol stack. The new development kit targets a wide range of accessories for iOS devices including entertainment accessories, device-powered dongles, game controllers and docking stations.
Silicon Labs designed the MFI-SIM3U1XX-DK kit as a turnkey solution to help developers simplify their Lightning-based accessory development projects and speed time to market while meeting the MFi program requirements with ease.
Silicon Labs' 32-bit development kit provides an exceptionally cost-effective and comprehensive solution for accessory developers. The kit includes everything engineers need to begin developing Lightning-based accessories right away, including a hardware development board, firmware libraries and an example iOS App, which supports Appcessory-style communication between the iOS device and development board. By simplifying the development process, the new 32-bit kit enables MFi licensees to focus on what matters most – the accessory application itself.
The MFI-SIM3U1XX-DK kit enables developers to reduce the cost, complexity and power consumption of accessories designed for iOS devices. The SiM3U MCU features fully-specified analog peripherals, an integrated capacitive touch sense controller, an internal 5V regulator and crystal-less USB support, which eliminates the need for discrete crystal oscillators and reduces bill of materials (BOM) cost, component count and board space. Device-powered accessory applications benefit from the SiM3U MCU's best-in-class power efficiency. The SiM3U MCU offers ultra-low power consumption with full analog operation down to 1.8 V, achieving a 33 percent lower active current than in-class competitors and a 5-100x lower sleep current, while a low-current USB idle mode ensures the viability of device-powered accessories.
Silicon Labs
www.silabs.com/mcu