Silicon Labs introduced a new version of the Simplicity Studio™ development ecosystem that provides unified support for Silicon Labs' energy-friendly 32-bit EFM32™ Gecko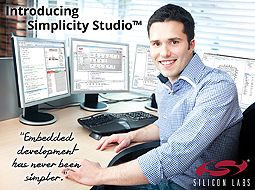 microcontrollers (MCUs) and 8-bit MCUs. This new software release inherits the best features of the original Simplicity Studio by supporting more than 240 ARM®-based EFM32 MCUs shipping today while extending development support to Silicon Labs' 8051-based MCU products. The new Simplicity Studio platform also integrates an Eclipse-based integrated development environment (IDE) that supports both 32-bit and 8-bit embedded designs.
Simplicity Studio is designed to make the development process easier, faster and more efficient by providing embedded designers with everything they need to complete their projects, from initial concept to final product, in a single, simple-to-use platform. The Simplicity Studio platform has built-in intelligence to immediately detect the connected target MCU. Graphical hardware configuration tools automatically configure the MCU, freeing the developer from the time-consuming task of perusing technical documentation. Developers can get projects up and running in minutes with sample demos and application code examples.
Silicon Labs
www.silabs.com