The AcQ Inducom "Medusa" VPX3424 is a 3U OpenVPX™ (VITA 65) Single Board Computer (SBC) featuring the all-new T4240 QorIQ® Processor from Freescale Semiconductor. This
12-core, 24-thread processor running at up to 1.8GHz is based on the e6500 core with AltiVec® technology and offers the cutting edge of both performance (up to 216 GFlops) and power efficiency. With up to 12GB DDR3 RAM with ECC and a range of fast interconnects, it forms the beating heart of this new board, bringing you unparalleled performance.
User-Programmable FPGA
The Medusa has a Xilinx Kintex-7, user-programmable FPGA and dozens of customizable OpenVPX™ user I/O pins, allowing you to add support for application specific interfaces or offload specialized tasks to the FPGA. The user-programmable FPGA adds great flexibility to meet your design needs and opportunities for a single-board solution. Due to a fast communication interface (PCIe 4x) between the T4240 and the FPGA, the FPGA can be used for pre-processing, video/image processing or adding extra functionality.
Software Support
Support for VxWorks®, Integrity®, PikeOS™ and Linux is planned for the Medusa, as well as an OS-less BSP. Other Operating Systems are available on request. Each supported software environment comes with extensive documentation, example software, compiler and IDE. Furthermore, a development kit will be available for the on-board user-programmable FPGA with code examples and documentation to kick-start your firmware development.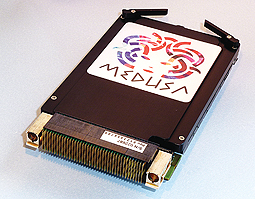 Small Form Factor System
A conduction cooled ruggedized REDI (VITA 48) variant of the Medusa is available as part of the upcoming AcQ Inducom OpenVPX™-based small form factor system (VITA 75), a highly modular and extendable platform for a range of embedded applications. This system brings together an optimized combination of performance and SWaP. AcQ Inducom offers a wide range of boards for this system using the OpenVPX™ (VITA 65) architecture. These boards include I/O, networking and audio functionality. A PMC/XMC carrier (VPX3001) is also available. Contact us for more details on this system and how it can meet your application's needs.
Features
• Freescale® T4240 with 12 dual-threaded e6500 cores up to 1.8GHz
• Built-in AltiVec® technology accelerators
• Up to 12GB of DDR3 RAM ECC up to 1866MT/s
• 2Mbit of FRAM
• Up to 64GB eMMC
• 256MB Flash for programs
• User-programmable Xilinx Kintex-7 FPGA
• Board Management Control on IPMC bus (VITA 46.11)
• Extensive on-board monitoring
• Multicore-debugging over AURORA and JTAG
• Configurable data plane: 2× PCIe ×4 or 1× PCIe ×8 or 1× PCIe ×4 and 1x Serial RapidIO® ×4
• Control plane: 4× 1Gb Ethernet (1000BASE-T or 1000BASE-KX)
• 4× 10 Gb Ethernet (10GBase-KR)
• 2× SATA 2.0 ports
• 2× USB 2.0 ports
• Real-time clock and elapsed time interval
• Air-cooled and conduction cooled available and REDI
• Compatible with many OpenVPX™ slot profiles
AcQ Inducom
www.acq.nl/medusa