Micronas extends its Hall-effect sensor portfolio by the new HAL 15xy switch family, successor of the HAL 5xy family. The new sensors provide highest quality and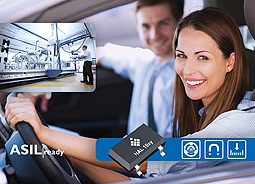 reliability for a broad variety of automotive applications. Distributor Rutronik presented the sensor innovations at the Sensor + Test from June 3 to 5, 2014, at Nuernberg.
The new sensor family was developed for harshest environmental conditions from -40°C up to 150°C ambient temperature. As the first generation of ASIL A ready Hall-effect switches with a single-point fault metric greater than 60% according to the latest ISO 26262 standard, the HAL 15xy sensors fulfill enhanced functional safety requirements. They provide many new diagnostic features, allowing a deployment in ASIL A, B and higher classified automotive applications.
For even more stringent security requirements, the HAL 15xy features an additional, unique power-on self-test. It can optionally be enabled for a full functional test of the sensors' signal processing path and output before starting standard operation.
Rutronik
www.rutronik.com/8b2e1050.l