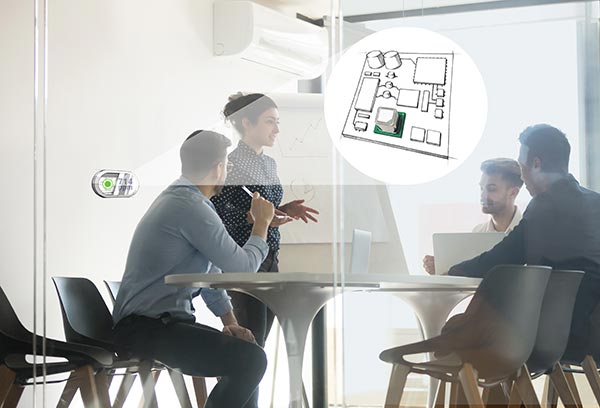 Sensirion (SIX: SENS), provider of industry-leading CO2 sensor products, and Energous Corporation (NASDAQ: WATT), a leading developer of RF-based charging for wireless power networks, announced a collaboration today to develop next-generation maintenance-free CO2 sensors powered wirelessly over the air for indoor air quality (IAQ) improvement in industrial and commercial applications. The companies are working to combine Sensirion's CO2 sensors – designed to improve IAQ and increase building energy efficiency through better HVAC management – with Energous' wireless power transfer technology, thus removing the need for battery maintenance and using reliable and consistent power delivered wirelessly over the air.
Sensirion's goal is to make air quality sensing more accessible to increase the health and well-being of people. 
The COVID-19 pandemic has demonstrated the importance of good IAQ for public health, making CO2 sensors critical to help ventilation and air filtration systems protect human health while also ensuring energy efficiency. However, the deployment of high-density CO2 sensors can be cumbersome and incur significant maintenance costs if disposable batteries and cables are needed. 
"CO2 sensors are being deployed in larger numbers in both industrial and commercial settings but are often located far away from central power sources and in locations that are hard to reach, limiting their ability to effectively monitor air quality," said Cesar Johnston, CEO of Energous. "Removing the need to replace batteries in CO2 sensors enables maintenance-free deployments and solves one of the main challenges facing the industrial IoT landscape. We are excited to announce our collaboration with Sensirion to develop a CO2 sensor solution that is wirelessly powered over the air." 
"Energous WattUp technology enables wireless power transmission with minimal size and maximum power and cost efficiency while our Sensirion PASens® technology enables miniaturized and cost-effective CO2 measurement without compromising sensor performance," said Johannes Winkelmann, Product Director Developer Experience of Sensirion. "We're excited about this collaboration to help solve a critical challenge in the CO2 sensor market and to help improve IAQ and increase building energy efficiency for industrial and commercial applications."