SEGGER is pleased to be one of the first tool vendors to announce their support for the new ARM® Cortex®-M7 architecture. SEGGER's industry standard J-Link debug probes and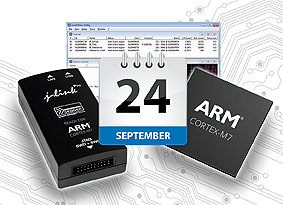 middleware products, including embOS and the new emSecure Digital Signature Library are Cortex-M7 ready, ensuring innovators and early adopters the quickest way to successful product development. Close cooperation with ARM has allowed Cortex-M7 J-Link and middleware support for lead partners like, Atmel, STMicroelectronics, and Freescale from day one.
"SEGGER is always at the forefront in supporting new ARM technologies," said Richard York, vice president, embedded marketing, ARM. "SEGGER debug probes, RTOS and middleware are widely-respected products for embedded development and ARM welcomes their support for the new ARM Cortex-M7 processor."
"Atmel has partnered with SEGGER on debug probes, Flash programmers and software for many years. Offering our customers support in continuity for tools, EmbOS kernel and middleware on Atmel's future ARM Cortex-M7-based microcontrollers is extremely important to us," said Jacko Wilbrink Sr. Product Marketing Director at Atmel.
"SEGGER debug probes and middleware are an integral part of the Freescale ARM ecosystem" said Michael Norman, Freescale's Manager for Kinetis Enablement.
SEGGER
www.segger.com