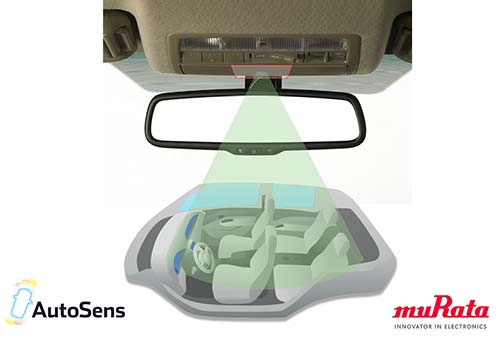 Murata will showcase the latest vehicle sensor innovations at AutoSens Brussels 2023 (19th – 21st September). Visitors to the company's stand (11) can explore how advances in sensor technology will shape the future landscape of vehicle safety and autonomous driving. Among the products on display is the new ultrasonic cleaning device, designed to keep automotive cameras and LiDAR systems clean and reliable.
AutoSens Brussels represents the first time you can view the product in person, and Murata will provide demonstrations of its capabilities throughout the event. With cameras providing a critical element of many advanced driver assistance systems (ADAS) and autonomous driving applications, ensuring the optical lens remains clean is imperative to the driver's safety. Fulfilling this requirement, the ultrasonic cleaning device has been designed to effectively disperse water, mud, fog and ice accumulation for automotive cameras, with future models under development for LiDAR systems.
Compared to traditional washer and blower solutions, the unique camera integrated concept saves on both system size and weight. While its continuous driver allows for a response time of less than one second, which ensures rapid operation. By utilizing piezoelectric technology, the power consumption is kept under 1.2 Watts, placing a low demand on the vehicle's electronic infrastructure.
Its impressive specification makes the product suitable for viewing and sensing cameras, and electronic mirrors (e-mirrors). As the device is still under development, this event represents an exciting opportunity to connect with the project ahead of further proof of concept testing.
In addition to the ultrasonic cleaning device, the show's visitors can explore live demonstrations of Murata's innovative new 79 GHz mmWave radar module. Featuring antenna design which is optimized for exterior applications, the system uses proprietary high-resolution algorithms to provide advanced 3D imaging capabilities. This technology enables precise imaging of complex shapes, allowing for the accurate detection of traditionally challenging structures such as upright poles placed close together or walls featuring uneven surfaces. Murata has developed the module to suit a wide range of applications, including vehicle parking assist and automatic doors systems, as well as automatic delivery robots.
Murata will be located at stand 11 and our team of experts look forward to meeting you at the show in September. AutoSens 2023 will present attendees with the chance to engage with their peers and investigate how companies can drive the development of automotive sensors to create safer roads.
For further information on AutoSens Brussels and tickets visit – https://auto-sens.com/events/brussels/