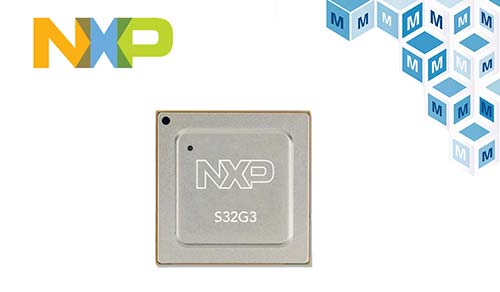 Mouser Electronics, Inc., the authorized global distributor with the newest semiconductors and electronic components, is now stocking the S32G3 vehicle network processors from NXP Semiconductors. The high-performance processors combine controller area network (CAN), local interconnect network (LIN), and FlexRay networking with high data rate Ethernet networking, supporting the needs of complex vehicle architectures involving service-oriented gateways, vehicle computers, domain controllers, safety processors, and zonal processors. The S32G3 Vehicle Network Processors support a range of automotive applications, including Firmware Over-the-Air (FOTA), zonal gateways, safety processors, automotive access points, and vehicle compute.
The NXP S32G3 vehicle network processors, now available at Mouser, feature up to eight Arm® Cortex®-A53 cores with Arm Neon™ technology organized in two clusters of four cores, as well as up to four Arm Cortex-M7 dual-core lockstep complexes for real-time applications. The S32G3 processors operate within a temperature range of -40°C to +105°C and are AEC-Q100 qualified. The vehicle network processors feature a low latency communication engine (LLCE) for automotive network acceleration and a packet forwarding engine (PFE) for Ethernet network acceleration. The processors also offer up to 20 MBytes of on-chip system SRAM. The S32G3 Vehicle Network Processors feature 16 isolation domains with eXtended Resource Domain Control (XRDC), as well as advanced functional safety hardware and software for ASIL D systems.
The S32G3 vehicle network processors from NXP Semiconductors are supported by the S32G-VNP-EVB3 S32G vehicle network processing evaluation board 3. The S32G-VNP-EVB3 evaluation board offers a combination of automotive and enterprise networking technology with multiple interfaces for vehicle networks. The S32G evaluation board includes peripheral devices with PCI Express and USB interfaces, allowing OEMs and software ecosystem partners to shorten time to market for new applications.
To learn more about the S32G3 vehicle network processors, visit https://www.mouser.com/new/nxp-semiconductors/nxp-s32g3-vehicle-network-processors/.