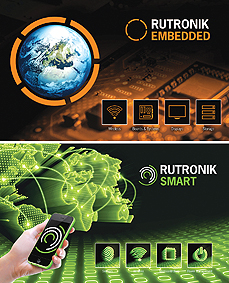 Networking paired with sensor technology is currently the drive behind many developments related to the Internet of Things (IoT). Rutronik Elektronische Bauelemente GmbH has bundled all components for these applications under its services RUTRONIK SMART and RUTRONIK EMBEDDED. In a global series of seminars, the distributor in coordination with a focus group of manufacturers, will be introducing innovations from these sectors – from wireless components and sensor technologies to power management solutions and microcontrollers through to boards, displays and storage components.
These one-day seminars will be held in London on June 4th. During the course of the year, there will be additional dates in Germany, Sweden, France, Italy, Spain, Poland, Slovenia, the Netherlands and in China. Participants can choose between a Smart and an Embedded seminar, each of which take place at the same place and at the same time.
RUTRONIK SMART
The Smart seminar is geared towards developers who design their own modules and use SMT components in the design. The seminar focuses on smart devices within the Internet of Things, especially on the segments Lifestyle (e.g. wearables, sport applications, indoor navigation solutions), Comfort (e.g. home automation, illumination and climate control systems, home appliance), Healthcare (e.g. patient monitoring, hearing aids, diagnostics carts) and Safety (e.g. surveillance and alarm systems, tracking and tracing solutions, smoke detectors).
RUTRONIK EMBEDDED
The Embedded seminar is geared towards developers who use a mainboard as the basis for their pluggable peripherals with standard interfaces. The applications from the focus markets industrial automation, transportation, medical and digital signage are characterized by the demand for ruggedness, long-term availability and a high degree of integration capability.
To the extent possible, these seminars will be held in the language of the country. The seminars are free of charge. Due to limited places, you will need to register at www.rutronik.com/IOT_Seminars_2015
Rutronik
www.rutronik.com