As of now, customers can acquire Telit m2mAIR M2M SIM cards and chips through Rutronik Elektronische Bauelemente GmbH. With extensive roaming options even within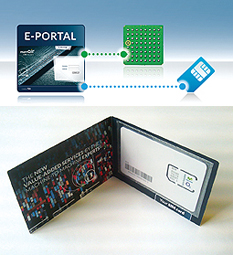 the host country, SIM management, security features as well as technical support and a troubleshooting service, these SIMs provide a complete, secure and cost-effective solution for all types of M2M applications while maintaining absolute control over costs. In addition to the standard SIM cards, models with larger temperature ranges as well as soldered SIM chips are also available through Rutronik.
The M2M SIM cards from Telit m2mAIR offer a whole range of options and services that are specifically designed for M2M applications and all types of solutions. The real-time management of usage policies, the definition of alarms, customisable limits for network traffic and cost warnings allow for absolute control over costs incurred by end users. All SIM cards can be managed with ease via a web-based portal. The SIM management system covers the entire SIM card life cycle, from the procurement of the SIM card, troubleshooting and diagnostics, management of consumption and user profiles as well as network-based usage policies with many flexible roaming profiles and extensive API functionality. The lifecycle management system lets you establish precisely under which circumstances which billing mode should apply ("test ready" or "active"). Over-the-air services enable module properties and services to be modified after installation (post-production). Active remote troubleshooting ensures that the SIM cards work free of errors and interruptions thanks to remote monitoring, real-time alarms, remote diagnostics and remote error fixing as well as support for remote AT commands. Among the features provided by the module management system are network diagnostics, remote resets, and IP and hardware tests.
The integrated, multi-layered security structure is made up of numerous solutions aimed at ensuring identity protection as well as providing protection against communications interception and data theft. The unique roaming options also provide security against network failures, even when within the host country – if a network fails, the SIM card will seamlessly switch to another network.
Thanks to a partnership with Telefónica, the user has a choice of attractive rates around the world; even medium-sized and smaller projects can benefit from rates that would otherwise normally be reserved for larger projects.
These SIM cards are available as a standard model with a temperature range of -25°C to 85°C and also as an industrial-grade model with an expanded temperature range of -40°C to 105°C. They are also ETSI TS 102.671-compliant. SIM chips, which are soldered directly onto the board, also offer significantly higher resistance to vibrations and shock.
Rutronik
www.rutronik.com