Microchip announces a new family of projected-capacitive touch controllers, the MTCH6102 with industry-leading low-power performance. These turnkey projected-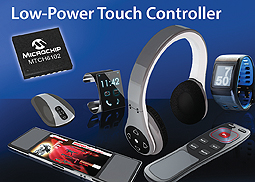 capacitive controllers make it easy for designers to add contemporary touch and gesture interface designs to cost-sensitive applications. This MTCH6102 facilitates design integration of capacitive scanning for touchscreens and touchpads including 11 single-finger gestures to swipe, scroll or double tap. The MTCH6102 enables flexible, scalable solutions to support PCB, ITO or FPC sensors up to 15 channels. It supports cover lenses up to 3 mm plastic and 5 mm glass and configurable sleep/idle frame rates to optimise for most power budgets with active mode as low as 12 µA. Microchip offers its free Configuration Utility to allow designers to make fast customisations. Microchip also provides designers with the firmware library for further optimisation and control if needed.
The MTCH6102 provides developers with a flexible touch-sensing solution for smaller touch areas to optimise common constraints of size, power and cost.
The MTCH6102 family serves a wide range of applications in the consumer electronic market, such as remote controls, gaming devices, wearable devices including headphones, watches, fitness wristbands, and track pads; and in the automotive market for automotive interior controls and control panels; as well as other applications.
Key Facts:
• MTCH6102 enables fast, cost-effective, low-power designs for modern human interface
• Turnkey projected-capacitive controllers for cost-sensitive applications
• Simplifies the addition of contemporary touch and gesture interface designs
• Flexible, scalable solutions can be optimised for most power budgets
• Supported by free Configuration Utility, firmware library and low-cost development kit
Microchip Technology
www.microchip.com/get/TU7M