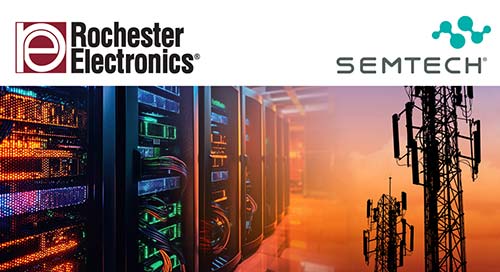 Rochester Electronics, LLC and Semtech Corporation have collaborated to provide customers with a broad range of mixed-signal solutions and continued channel support for active and end-of-life (EOL) components, catering to long-lifecycle products and applications that align with Semtech's dedication to meeting the needs of global customers.
Semtech has a rich history dating back to 1960 as a producer of high-reliability products and has evolved into a multinational technology innovator providing differentiated, disruptive analog and mixed-signal semiconductors.  By upholding exceptional quality standards, Semtech consistently delivers value and ensures a high level of customer satisfaction.
Rochester Electronics is the world's largest continuous source of semiconductors, offering 100% authorized, traceable, certified, and guaranteed devices. Rochester is focused on extending the availability of obsolete lifecycle products, along with providing support for active lifecycle products.
As part of the initial inventory package, Rochester have received 12 million units of Semtech products, including a diverse selection of power management devices, LED drivers, filters, TVS/ESD protection devices, proximity sensors, I/O-port expanders, and RF transceivers.
"Rochester welcomes the opportunity to offer Semtech's broad range of mixed-signal solutions. This offering enhances Rochester's position in the market by enabling us to serve a broad range of global market sectors, and we look forward to continuing to grow the relationship with our worldwide customers." - Mark Gohr, Rochester Electronics Director of Supplier Development, Americas.
"We are pleased to be working with Rochester Electronics who will now offer a selection of Semtech's comprehensive portfolio of mixed-signal semiconductor solutions. Rochester Electronics is an industry leader of continuous source semiconductor products and solutions, authorized by over 70 leading semiconductor manufacturers, and providing an extensive range of end-of-life (EOL) semiconductors. This relationship with Rochester provides great value to our customers, supporting long-life applications and extending product lifecycles." – Hieu Duong, Senior Director of Global Channel Sales, Semtech.