TTI, Inc., the world's leading specialist distributor of passive, connector, electromechanical and discrete components, now stocks Bourns' Multifuse polymer PPTC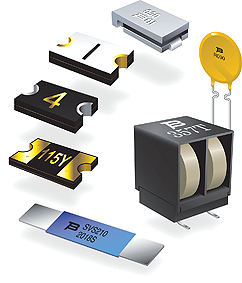 resettable fuses for reliable overcurrent protection. The components are UL recognized and AEC-Q200 compliant and are available in a wide range of surface mount, radial through-hole and axial strap type versions.
The fuses come in surface mount foot print sizes of 0603 up to 3425. They range in hold current from 50mA up to 11A. Both standard temperature and high temperature options, as well as a range of voltage options of 72Vdc, 220Vac and telecommunication standards of 250V and 600V are available.
The devices have been designed to be used in a wide range of industrial, consumer electronics, automotive and telecommunication circuits like industrial controllers, security systems, lithium battery cells, USB memory sticks, desktop & notebook PCs, game consoles, set-top boxes, automotive DC motors, car navigation systems, USB/IEEE1394 expansion ports, ADSL splitters, as well as medical devices.
TTI, Inc.
www.ttieurope.com