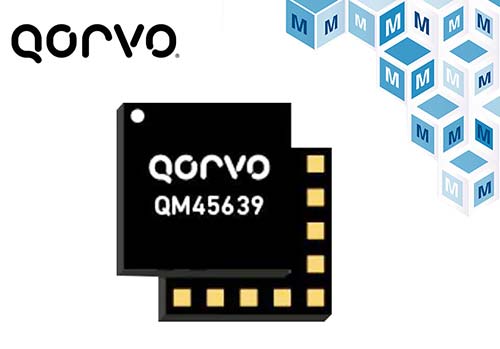 Mouser Electronics, Inc., the New Product Introduction (NPI) leader™ empowering innovation, is now stocking the QM45639 5 GHz to 7 GHz Wi-Fi® 7 front end module (FEM) from Qorvo. Wi-Fi 7 offers a wider channel and capacity gains than the 6 GHz spectrum, resulting in massive throughput gains. Wi-Fi 7 can deliver peak rates of over 40 Gbps, a 4× increase over Wi-Fi 6E. The QM45639 FEM offers lightning-fast wireless connectivity for PCs in both gaming and work environments, as well as exceptional performance for customer premises equipment, smart home devices, portable consumer electronics and wearables.
Optimized for 802.11be systems, the Qorvo QM45639 supports the next generation of data-centric IoT applications. The QM45639 module offers outstanding performance by optimizing the power amplifier for a broad range of supply voltages for mobile applications, from 3 V to 5 V. The high-performance module boasts a 29-dB Tx gain and 2.3-dB noise figure, as well as a 14-dB Rx gain (high gain), 12-dB Rx gain (low current), and 3-dB bypass loss. The device's integrated power coupler and multiple Wi-Fi transmit states ensure flexible, highly efficient operations for all applications.
As a Wi-Fi 7 device, the QM45639 module offers compatibility with Matter™, a new connectivity standard for Internet of Things (IoT) devices. Matter is a universal software layer, a foundation for connected things and their applications, built upon and compatible with various protocols. By using standard IP as the communication protocol Matter builds upon, it acts as the universal IoT standard compatible with various protocols deployed in homes today.
The QM45639 module is supported by the Qorvo QM45639EVB evaluation board, also available at Mouser. The QM45639EVB board features a pre-mounted QM45639 in a compact 2 mm x 2 mm laminate package. The evaluation board provides an example application circuit, allowing rapid prototyping when incorporated into existing designs.
To learn more about the QM45639 Wi-Fi 7 FEM, visit https://www.mouser.com/new/qorvo/qorvo-qm45639-module/.