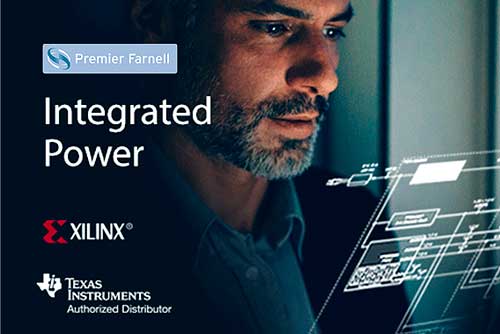 Farnell element14, the Development Distributor, is supporting customers of the Xilinx® Zynq® UltraScale+™ MPSoC family with the launch of two Texas Instruments reference designs to ease the development of power solutions for customers developing innovative applications using these devices. Each reference design, which provides customers with an easy way to prototype their designs before fully understanding their power needs, is a scalable power supply designed to provide power to the Xilinx Zynq UltraScale+ family of FPGA-based MPSoC devices. The designs receive power from a standard DC power supply and provide power to all rails of the Xilinx chipset and DDR memory through a well-defined Samtec socket-terminal strip connection.
The Integrated Power Supply Reference Design for Xilinx Zynq UltraScale+ZU2CG−ZU5EV MPSoCs is scalable to support ZU2CG-ZU3EG devices. In addition, the Integrated Power Supply Reference Design for Xilinx Artix®-7 and Spartan®-7 FPGAs, and Zynq®-7000 SoCs is further scalable to support the most basic Spartan-7 FPGA device, a more complex Artix-7 FPGA with multigigabit transceivers, and up to the Zynq-7000 SoC with a dual-core Arm® Cortex®-A9 processor.
As the two reference designs share the same concept and prototype PCB, customers can use the same power design across the Xilinx Zynq UltraScale+ family and the Xilinx cost-optimized portfolio. Power solutions for devices of this type typically require custom power-management ICs or use many discrete power regulators to provide power to FPGA platforms. The new solution results in a scalable design which features a configurable PMIC and individually selected discrete components.
The solution size is optimized for each assembly variant, with power building blocks selected depending on the Xilinx product. In early prototyping, the Texas Instruments reference designs can be used for power-on scenarios. For the final design, the power solution can be implemented as the smallest solution size. The result is an elegant and scalable solution which enables designers using both the Xilinx Zynq UltraScale+ family and the Xilinx cost-optimised products (Artix-7, Spartan-7, and Zynq-7000) to create a reusable power platform. A typical application example would be a power solution for customers designing an industrial robot using a ZU+ as the central computer and multiple Spartan-7s for motor control of the axis. This solution powers both chipsets.
Simon Meadmore, Global Head of semiconductors and SBC at Premier Farnell and Farnell element14 said; "As the Development Distributor, Farnell element14 seek to provide customers with ways to speed up their design processes, saving time and money as they get their products to market. These new reference designs from Texas Instruments give customers a way to prototype their designs even before they understand their full power needs – and can be tailored to work across all Xilinx solutions from the Xilinx Zynq UltraScale+ family to Xilinx's cost-optimised portfolio. We are able to bring these to our customers due to the strong relationships we have built with the world's leading manufacturers and suppliers – bringing together the best solutions available to deliver real benefits for our customers".
Farnell element14   |    http://uk.farnell.com/fpga-power