ODU has specialized in the design and development of connectors for more than 60 years. The company's headquarters in Mühldorf, Germany, houses all design and development, tool manufacturing, injection molding, stamping, turning, electroplating, assembly automation, and cable assembly under one roof. With sales and marketing subsidiaries in China, France, Romania, Scandinavia, the U.K., and the U.S., as well as global sales partners, ODU is represented all over the world.
A powerful quality management system has been an important component of ODU's business for many years. The company is successfully certified to ISO 9001. In addition, the automotive sector of the company group is certified to ISO/TS 16949.
ODU is also certified according to the medical norm ISO 13485 : 2003 + AC : 2007; in additional to VDE, UL, UL wiring harness, SCA, VG, and MIL certifications.
Products for Your Success
ODU develops reliable solutions in the connector area for many well-known companies.
The result? High quality, innovative products for the global market. These connector systems offer clear benefits:
• Very large number of mating cycles for profitable demands
• Absolute contact stability for reliable action
• Easy condition for quick action
• Unmistakable connector position for reliable work
• High visibility for faultless handling
• High ampacity
ODU's Products
Push-Pull Connectors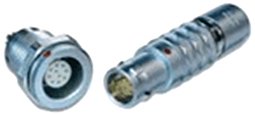 ODU offers three different series of cylindrical miniature connectors: ODU MINI-SNAP, ODU MINI-SNAP PC, ODU
Modular Attachable Connectors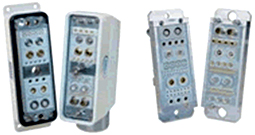 With its various contact inserts—signal, power, high current, fiber optic, pneumatic, fluid, or BUS modules.
Single Contacts

Springwire contacts—the patented invention of ODU founder Otto Dunkel—offers many outstanding advantages.
In addition to springwire contact technology, three other high-quality contact technologies are available.
Robust Connectors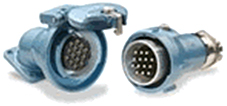 Are heavy-duty, cylindrical connectors with threaded and bayonet locking, up to 1,500 amps and up to 252 contact positions.
Docking Systems

Include the connector series ODU ROB and ODU DOCK.
The connectors are developed for industrial robot systems and in docking and tool-changing systems.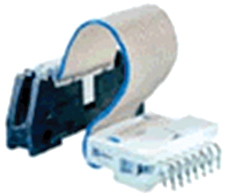 PCB connectors are available as board-to-cable or board-to-board connectors with grid spacing 2.54 × 2.54mm, and grid spacing 1.27 × 1.27mm, and are RoHs compliant.
Custom Specific Connectors

ODU helps its customers to develop a custom solution to their interconnect challenges. ODU's motto is, "If It's not out there yet, we'll work with you to develop it!" The ability to work through all design stages in one location allows them to respond to its customers' requests flexibly and quickly. They'll work with the user to develop individually custom solutions to meet the user's special requirements. Every year, ODU receives around 30 development orders.
Railway Technology ODU CAT5

ODU presents the new ODU CAT5 cylindrical connector, an innovative data connector designed especially for swift and reliable data transmission in railroad technology.
ODU at a Glance
• The sole supplier to more than 100 companies around the world: Alcon, Ericsson, Hewlett-Packard, Philips, Nokia, Vorwerk, Siemens, Zeiss, etc.
• 30 development orders a year
• Continuous growth
• Seven subsidiaries: France, Great Britain, Romania, Scandinavia, and the U.S.; two subsidiaries in China
• All technologies under one roof: design and development, tool manufacturing, injection molding, stamping, turning, electroplating, assembly automation, and cable assembly
• Focus markets include medical, measurement and testing, military, telecommunication, automation, industrial electronics and machinery, automotive, renewable energies, and rail.
Contact:
Eng. Alina Cibu
E-mail: alina.cibu@odu-rom.ro
www.odu-rom.ro
ODU ROM Manufacturing – Sibiu, Romania
Tel: 0748144488; Fax: 0269 221006
For general information visit: www.odu.de