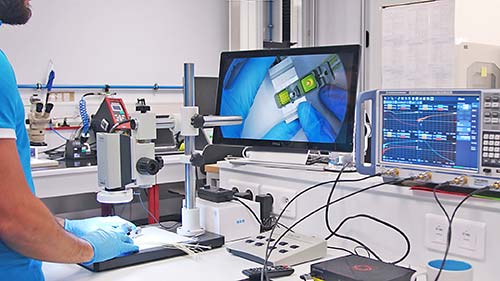 As part of its design and development process for rugged, harsh environment and high reliability (hi-rel) applications, leading manufacturer of high-performance interconnect systems, Nicomatic subjects its products to stringent environmental, mechanical and electrical tests – ensuring they meet complex industry standards and specifications. Now, the company has opened a materials testing laboratory offering these test and qualification services to customers with demanding applications.
Dedicated Nicomatic test engineers work closely with customer design and development teams, applying their expertise to complex materials test and qualification of customer projects. Nicomatic's test lab is quality management system certified to ISO 9001 & AS9100, with decades of experience in meeting industry standards and specifications across defence, aeronautics and space applications, including MIL-DTL-55302, MIL-DTL-83513 and ESCC3401.
Almost a dozen test instruments and machines perform more than 30 tests to ensure customer products, devices and systems are comprehensively performance tested, including:
Signal integrity: a Rohde & Schwarz vector network analyzer performs characterization of signals across time and frequency domains, as well as for standard communications protocols (including Ethernet, USB, SATA and HDMI).
Environmental: using a Labworks vibration test bench, tests can be carried out for vibration, magnetic permeability, temperature cycling, with damp or dry heat or cold, thermal shock and humidity-controlled salt spray.
Mechanical: using a vertical test bench and an Antilog Atlas II CC automated materials testing machine, tests can be carried out for tensile and mechanical strength, separation, retention and mating/unmating force, as well as cable crimp tensile strength.
Electrical: a Sefelec dielectric meter can be used to perform both hipot and insulation test, determining dielectric withstanding or breakdown voltage, at specific altitudes between sea level (1 bar) and 100,000 feet (10 mbar), as well as insulation resistance test from sea level to high altitude.
Chemical: tests include fluid resistance, marking and silicon elasticity/expansion.
"This new test laboratory fulfils several important roles for Nicomatic," explained Jorris Martel, Test Engineer at Nicomatic. "The first one is to qualify all our interconnect products to the relevant industry standards and specifications. Through this first process, we can provide all the data and information that customers require in term of performance.
"But arguably our most critical assignment," Martel continued, "is to assist customers during their implementation of Nicomatic products in their application. Our goal is to offer their design engineers the advice and answers they need to assure the best customer experience. We are not a simple test laboratory: our real value is to provide specialist interconnect advice and expertise where others cannot."
Customers wanting to verify their products and solutions can now work with the test engineers and subject matter experts that staff Nicomatic's test laboratory to characterize, qualify and thoroughly test the connector components and sub-assemblies – ensuring they meet the industry standards and specifications needed for demanding hi-rel applications.