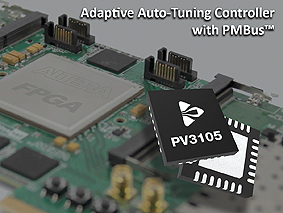 Powervation Ltd., the Intelligent Digital Power™ company, announced its latest high-performance digital DC/DC controller for FPGA, ASIC, and POL power for communications & computing applications.
Designed for key rails that demand precision output voltage regulation and tight control during transient conditions, the PV3105 digital controller provides low jitter and low output voltage ripple, and improved transient response, making it ideal for powering low-voltage, high current rails on leading process nodes for ASICs/FPGAs.
Additional hardware and firmware features have been implemented to further improve the control of the output voltage under static and dynamic conditions.
To meet the power needs of today's advanced ASICs, PV3105 provides support for latest senseFET power stages, precision telemetry & reporting, and includes features such as voltage tracking, margining, and sequencing.
The PV3105 provides temperature compensated fault protection, more flexible protection feature settings, and alerts over PMBus™ are fully configurable & selectable. Fully scalable, PV3105 can be used in single phase mode or can power multi-phase high power loads using Powervation's DSS® current sharing bus.
The PV3105 is designed to flexibly operate with all leading FET power stages, to give the designer maximum flexibility for powering the latest FPGAs, ASICs, processors, and POL. The PV3105 is RoHS compliant and is available now in a 4 mm × 4 mm QFN package.
Powervation
www.powervation.com