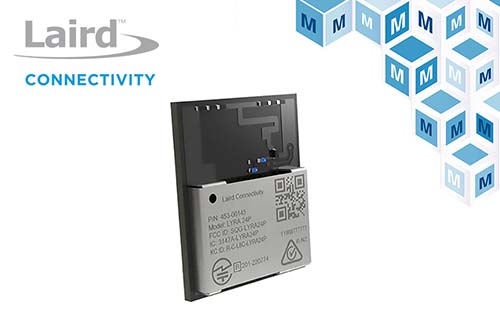 Mouser Electronics, Inc., the industry's leading New Product Introduction (NPI) distributor with the widest selection of semiconductors and electronic components™, is now stocking the Lyra 24 series Bluetooth® modules from Laird Connectivity. The Lyra 24 Series are Bluetooth Low Energy (LE) modules based on Silicon Labs EFR32BG24 system-on-chip (SoC), offering both Bluetooth LE and mesh connectivity with exceptional RF performance, energy efficiency, future-proof design and industry-leading Secure Vault® technology for smart home, lighting, asset tags and beacons, secure medical peripherals, and industrial IoT sensor applications.
The Laird Connectivity Lyra 24 Bluetooth 5.3 modules, available from Mouser Electronics, feature a 32-bit Arm® Cortex®-M33 core with digital signal processing (DSP) instruction and a floating-point unit operating at 2.4 GHz radio frequency with 1536 kB Flash and 256 kB RAM. The Lyra 24 Series features multiple module variants with up to 10dBm and 20dBm PCB modules, as well as a tiny form factor SIP module at 7 mm x 7mm. The modules support either a built-in antenna or RF pin, with a rich set of analog and digital peripherals to suit any host board footprint.
Lyra 24 Bluetooth modules also come with fully upgradeable, robust software stacks, worldwide regulatory certifications, advanced development and debugging tools, and support to minimize and simplify engineering and development. The software options supported are either integrated supported for Silicon Labs' Simplicity Studio environment for C code development or alternatively utilize Laird Connectivity's simple, robust and easy-to-use AT command set firmware for hosted applications with an external MCU. Lyra 24 Bluetooth LE modules operate at a 1.8 V to 3.8 V supply voltage range and a -40°C to +105°C temperature range.
These module options are supported by low-cost, easy-to-use development kits and a certified, packaged USB Adapter to add Bluetooth LE connectivity to any device with a virtual COM port capability.
To learn more, visit: https://www.mouser.com/new/laird-connectivity/laird-lyra-24-bluetooth-modules/.