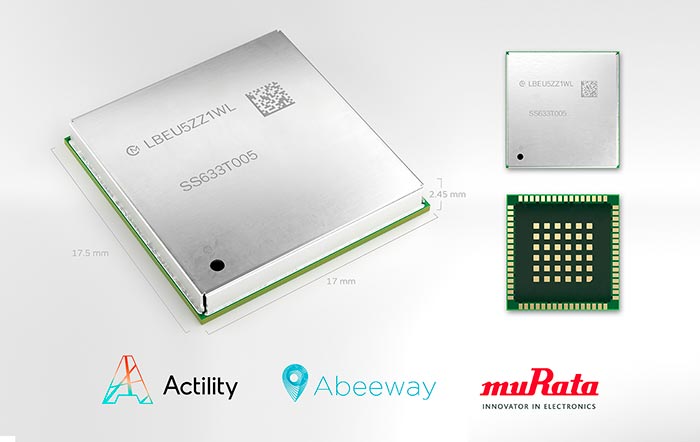 Murata has designed and manufactured the Abeeway-Murata Geolocation Module (LBEU5ZZ1WL) co-developed with Abeeway, a market leader in low-power combined indoor and outdoor geolocation, an Actility Group company. The low-power wide-area network (LPWAN) location modules are designed to maximize battery life, with superior sensitivity and high flexibility, to build customized low-cost Internet of Things (IoT) tracking devices. Suitable for both indoor and outdoor environments, applications include asset recovery, traceability, inventory management, and theft prevention.
"The new Geolocation module allows designers to develop products that meet the most demanding requirements, especially in areas such as asset tracking and other IoT applications, said Akira Sasaki, General Manager – Connectivity Module Marketing, Murata. "This exciting collaboration greatly simplifies the development of new LoRaWAN® tracking devices and offers customers faster time to market by minimizing BOM size, TCO and complexity."
The modules are designed and manufactured by Murata Manufacturing. With many years of experience in high-density integration and high-volume production with no compromise on quality, the company encapsulated an array of enabling devices within one System in Package (SiP). These compact modules help engineers save valuable board space for space-restricted tracking applications, reduce certification risk and budget, as well as test time and cost for mass production.
The modules integrate LoRaWAN® connectivity, the communication technology that has become the de-facto standard for connectivity over public and private networks. In addition to a dual-core, multi-protocol wireless microcontroller, the modules contain a high-performance multi-constellation GNSS receiver (GPS, GLONASS, Beidou and Galileo) and support a patented ultra-low-power localizer performance (LP) mode.
On-board Bluetooth® LE 5.2 (Bluetooth SIG cert is underway) connectivity allows for easy short-range communication with smartphone apps and other devices for applications such as contact tracing or monitoring BLE tagged equipment. With full power-optimized FreeRTOS, drivers and LoRaWAN® stack, these multi-technology modules allow engineers to focus on the application while optimizing time-to-market and cost by using less complex PCBs.
"The key requirement is to minimize time to market for device manufacturers embracing LoRaWAN® for industrial or consumer applications. The new geolocation module by Abeeway brings a market-ready reference for anyone wanting to develop a customized tracking device. The implementation of Semtech's latest transceiver and ST's industry-leading STM32 wireless microcontrollers allows the usage of necessary security features and device management solutions for LoRaWAN® deployment," said Olivier Hersent, CEO at Actility. 
The Abeeway-Murata Geolocation Module with a full-featured evaluation kit will be available in production quantities after September 2022. Contact Murata local sales for early access.