Mouser Electronics, Inc. now has stock available to ship of Intel's popular Galileo Arduino® Certified Development Board, powered by the newest Intel® Quark X1000 SoC.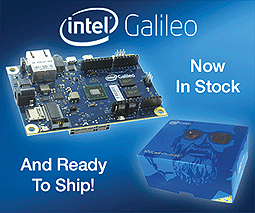 The Intel® Galileo Development Board available from Mouser Electronics is designed around the 32 bit Intel Quark X1000, a Pentium-class system on a chip (SoC) and is the first product in a new family of Arduino Certified boards based on an Intel processor. Galileo is hardware and software compatible with most Arduino shields designed for the Uno R3. Shields are accessory boards that plug into an Arduino board to extend its capabilities.
The Intel Galileo has several PC industry standard I/O ports and features that expand its capabilities beyond the Arduino ecosystem. A mini-PCI Express slot, 100Mb Ethernet port, microSD™ slot, RS-232 serial port, USB Host port, USB Client Port, and 8 MByte NOR flash memory are also available on the board. Galileo uses the Arduino Integrated Development Environment (IDE) interface to create programs for the Galileo called "sketches." To run a sketch on the board, first connect a power supply, then connect Galileo's USB Client port to a PC, and then upload the sketch from the IDE interface.
Mouser Electronics
www.mouser.com