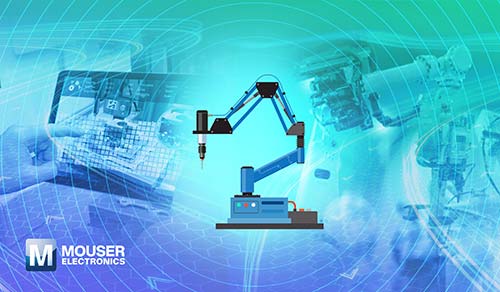 Mouser Electronics, Inc., the authorized global distributor with the newest semiconductors and electronic components, offers an insightful Industrial resource center, providing a wealth of information about the cutting-edge technologies that are driving the modern industrial automation transformation. Mouser explores the advantages of predictive maintenance and machine learning on edge devices and digital twin simulations for engineering professionals, allowing them to increase efficiency and lower costs. By leveraging these technologies, designers can create more efficient and reliable automation systems for applications within IIoT, robotics, AR/VR, industrial networks and more.
Mouser's extensive catalog of products, eBooks, articles and blogs makes it easy for engineers to discover the latest trends in industrial automation. Mouser evaluates the potential applications of these technologies, from warehouses and manufacturing facilities to automated processes, and provides innovative resources that enable users to take full advantage of these solutions.
Mouser stocks the industry's widest selection of semiconductors and electronic components, including the following solutions for industrial automation applications:
For the latest on solutions for industrial, visit https://resources.mouser.com/industrial/.