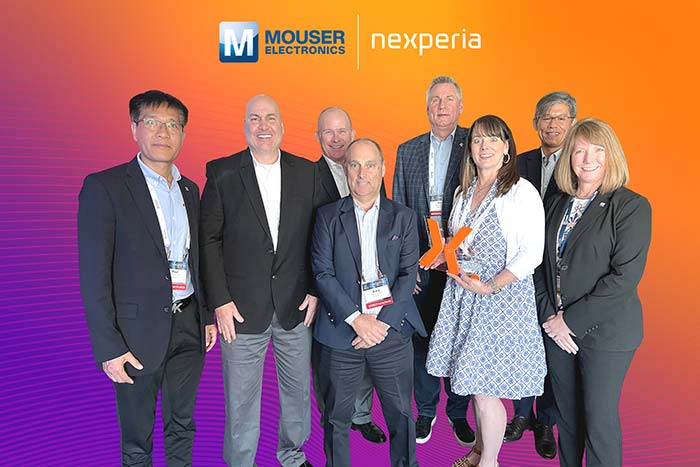 Mouser Electronics, Inc., the authorised global distributor with the newest semiconductors and electronic components, is pleased to announce it has been named the 2022 E-Tailer of the Year by its valued manufacturer partner Nexperia, a global leader in discretes, logic and MOSFET devices. The Mouser team received the award at the recent EDS 2023 event in Las Vegas for its growth in sales and customer count for Nexperia.
"On behalf of Mouser, we are incredibly honoured and excited to receive this important recognition from Nexperia, a valued partner and leader in our industry," said Kristin Schuetter, Mouser Electronics' Vice President of Supplier Management, Semiconductors. "We strive to deliver top-notch results, and it is extremely gratifying to be recognised for our efforts. Many thanks to Nexperia and all of those involved."
"Nexperia is proud and honoured to present Mouser with the e-Tailer of the Year award at EDS. The award is presented to Mouser in recognition of being Nexperia's top e-Tailer in the Americas for 2022. Through their aggressive growth plan, Mouser achieved record-breaking sales in 2022," said Paul Zhang, Nexperia's Senior Vice President of Global Sales and Marketing. "Mouser is an integral part of Nexperia's Channel strategy, and we look forward to many more years of successful partnership."
Formerly a part of NXP Standard Products, Nexperia is focused on efficiency, producing consistently reliable semiconductor components at high volume. The company's extensive portfolio meets the stringent standards set by the automotive industry. Industry-leading small packages, produced in Nexperia's manufacturing facilities, combine power and thermal efficiency with best-in-class quality levels.
With almost 12,000 Nexperia parts available to order, Mouser offers an ever-widening selection of the manufacturer's newest products. To learn more about Nexperia, visit https://eu.mouser.com/manufacturer/nexperia/.