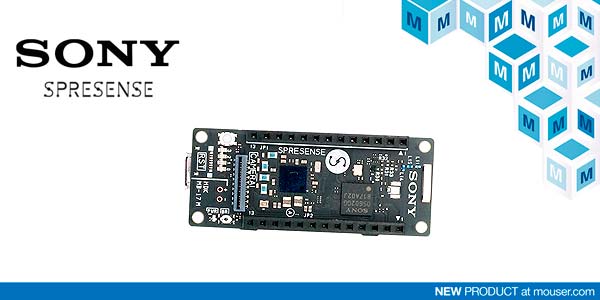 Mouser Electronics, Inc., the authorised global distributor with the newest semiconductors and electronic components, today announces a global distribution agreement with Sony Electronics Inc. to distribute Spresense™ development boards for edge computing solutions. As part of the agreement, Mouser now offers Spresense high-performance development boards, enabling designers to quickly create solutions for a diverse range of implementation areas including logistics, robotics, artificial intelligence (AI), audio, and the Internet of Things (IoT).
The Spresense Main Board (U.S. and Japan, Europe, China) is based on the powerful multicore CXD5602 microcontroller with GPS functionality by Sony. The Arduino-compatible development board is a compact, highly versatile solution that can be used both as a standalone device or with an extension board. The Main Board supports a applications such as high-performance drones, time-lapse cameras, and smart speakers. The Extension Board (U.S. and Japan, Europe, China) offers additional features and hardware connectability to the Main Board, including Arduino Uno-compatible headers, a micro-SD card slot, extra USB port, and 3.5‑mm headphone jack.
The Spresense Camera Board (U.S. and Japan, Europe, China) extends the functionality of the Main Board with a compact, high-resolution 5 megapixel camera. The Camera Board uses the ISX012 Image Sensor by Sony, and its onboard encoder supports JPEG, RAW, Y/C, and RGB formats. The Camera Board can be combined with the AI capabilities of the Main Board to offer advanced vision capabilities in IoT devices.
To learn more about Spresense development boards, visit https://eu.mouser.com/manufacturer/sony-spresense/
As an authorised distributor, Mouser Electronics is focused on the rapid introduction of new products and technologies, giving customers an edge and helping speed time to market. Over 800 semiconductor and electronic component manufacturers count on Mouser to help them introduce their products into the global marketplace. Mouser's customers can expect 100% certified, genuine products that are fully traceable from each manufacturer.