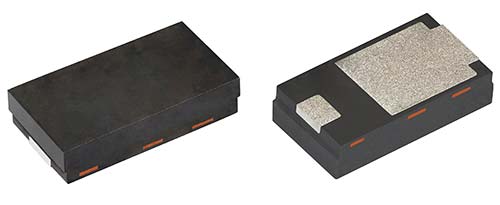 Vishay Intertechnology's SE20Nx, SE30Nx and SE40Nx automotive grade standard rectifiers for peak reverse voltages of 200 V,
400 V and 600 V, respectively, deliver high currents up to 4 A. They are currently the first in the industry to be incorporated into the DFN3820A series of power DFN packages with dimensions of less than 1 cm and wettable flanks. The space-saving design of the enclosures allows a more efficient use of the boards with excellent current-carrying capacity. The rectifiers are ideally suited for a wide range of applications in areas such as connectivity, industrial or consumer and are available at www.rutronik24.com.
 Vishay Intertechnology introduces three new types of standard surface mount rectifiers for automotive applications. The SE20Nx (2 A), SE30Nx (3 A) and SE40Nx (4 A) offer space-saving solutions with high efficiency and operate reliably at operating temperatures of -55 °C and +175 °C.
The DFN3820A package features extremely small dimensions and a particularly low profile, with a compact 3.8 mm x 2.0 mm and a height of just 0.88 mm.
Compared to components in the SMP package (DO-220AA) with the same footprint, the SE20Nx, SE30Nx and SE40Nx offer a 12 % lower profile while delivering twice the current-carrying capacity.
This superior thermal performance is due to the optimized copper mass design and advanced die placement technology of the components, enabling operation at higher current ratings. Optimum power line polarity protection and rail-to-rail protection is thus achievable in commercial, industrial and automotive applications.
Additional benefits:
AEC-Q101 qualified
Typical reverse leakage current less than 0.1 μA
Low forward voltage drop of up to 0.86 V reduces power losses and improves efficiency
ESD capability in accordance with IEC 61000-4-2, air discharge mode
Ideal for automatic assembly
MSL-1, according to J-STD-020, LF peak of 260° C
RoHS compliant and halogen free
Application examples:
Connectivity: telecom mobile and fixed network infrastructure, telecom mobile devices
Consumers: consumer electronics, household appliances, health and care
Mobility: automotive, agricultural equipment, micro mobility
Industry: automation, home and building control, drives
 Product specifications overview: 
Part Number
IF(AV) (A)
VRRM (V)
IFSM (A)
VF at IF and TJ
TJ Max. (°C)
Automotive
Non-Automotive
VF (V)
IF (A)
TJ (°C)
SE20NDHM3
SE20ND-M3
2
200
32
0,86
2
125
175
SE20NGHM3
SE20NG-M3
2
400
32
0,86
2
125
175
SE20NJHM3
SE20NJ-M3
2
600
32
0,86
2
125
175
SE30NDHM3
SE30ND-M3
3
200
40
0,86
3
125
175
SE30NGHM3
SE30NG-M3
3
400
40
0,86
3
125
175
SE30NJHM3
SE30NJ-M3
3
600
40
0,86
3
125
175
SE40NDHM3
SE40ND-M3
4
200
60
0,86
4
125
175
SE40NGHM3
SE40NG-M3
4
400
60
0,86
4
125
175
SE40NJHM3
SE40NJ-M3
4
600
60
0,86
4
125
175
For more information about about Vishay's standard rectifier series SE20Nx, SE30Nx und SE40Nx and a direct ordering option, please visit our e-commerce platform at www.rutronik24.com.