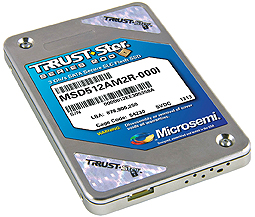 Microsemi Corporation, a leading provider of semiconductor solutions differentiated by power, security, reliability and performance, announced the world's only secure, half-terabyte (TB) solid state drive (SSD) for mobile video surveillance operations, storage area networks (SANs) and other high capacity storage applications requiring superior real-time data protection. The ruggedized TRRUST-Stor™ Series 200 2.5" SATA SSD operates at sustained 200 megabytes per second (MB/s) and delivers the industry's fastest full-hardware-based erase time of less than 10 seconds. The self-encrypting, half-terabyte SSD is available now and currently shipping to multiple customers to support applications requiring massive secure storage capacity.
The half-terabyte TRRUST-Stor SSD provides military-grade ruggedization as well as unparalleled safeguards and processes for physical data storage with multiple layers of security features. The suite of industry-leading features prevents corruption and unauthorized access with hardware- and software-based barriers. The drive features a built-in compact in-line encryptor with hardware-implemented, NIST-certified AES 256 encryption using the XTS block cipher mode.
Ruggedization features include superior error correction, 9 petabytes write endurance, power loss protection and more than 2 million hours mean time between failure (MTBF). Enhanced mechanical construction ensures operation in extreme temperatures, humidity, shock and vibration.
The TRRUST-Stor Series 200 is powered by Microsemi's second generation Armor™ processor, enabling robust performance. The Series 200 SSDs also offer the ability to load encryption keys. Customers can input their own AES-256 keys, purge them and reload as needed. Microsemi's TRRUST-Purge™ technology destroys keys in less than 30 milliseconds when activated.
Microsemi
www.microsemi.com