Today, touch functionality is absolutely indispensable for a modern human-machine-interface. All leading micro-controller manufacturers offer sophisticated solutions here. This means that developers are spoilt for choice.
ST Microelectronics has developed two integrated micro-controller solutions, especially for human-machine-interface solutions. The STM8T controller family thus supports both capacitive approximation and touch key technology. The latest addition to the family is the STM8T143, which is based on capacitive technology with charge transfer. It uses a channel to measure the capacitance of the human body in the vicinity of an electrode located behind a dielectric material such as glass or acrylic. The 8-pin micro-controller has a really low power consumption of around 10μA. Integrated sampling resistors and a voltage regulator optimize the sensitivity of the device and increase the noise immunity of the system in loud environments.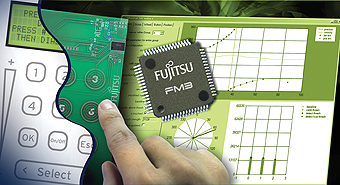 Thanks to its electrode parasitic capacitance compensation (EPCC), the STM8T143 has a detection range of up to 25 cm. One interesting feature for use in mobile phones is on-ear proximity detection, which detects when the user is holding the phone to his or her ear whilst making a call. At this point, all touch-screen functions are deactivated to prevent them from being accidentally triggered during the call.
The STM8T143 also reduces radio frequency strength if the device is in the vicinity of the user. As a result, it meets FCC SAR (specific absorption rate) requirements and can also be used in tablets. The ST micro-controller is also suitable for use for on/off switches, proximity control for the backlighting of user interfaces, alarm and control functions, and energy-saving peripheral modules for portable devices.
For the development of high-end user interfaces, ST offers a touch sensing software library with a completely free source code solution for capacitive touch key controllers.
It allows keys, wheels, and controllers to be linked with traditional peripheral applications of micro-controllers such as communication, LED, and LCD indicators and beepers. The library is part of the application firmware; evaluation boards are also available.
In the first quarter of 2013, ST Micro­electronics will launch a new STM32 Cortex M4 core micro-controller with floating point unit (FPU) calculation. This will be specially designed for HMI applications. The IC has an integrated TFT LCD controller, USB OTG support, Ethernet, and generously sized SRAM and flash memories. The implemented slide and touch functionality is based on the capacitive method and is executed via GPIOs with the help of the ST software library. The new micro-controller builds upon the second generation of the familiar STM32F4 series.
In order to reduce the development time for prototypes for various applications, Infineon has developed a modular, extendable application kit – the Hexagon Kit System – for its XMC4000 micro-controller family. Various satellite boards oriented towards different applications can be docked onto the central board with the XMC4500 micro-controller.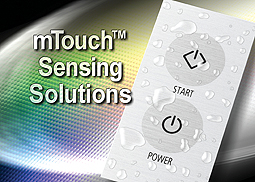 The HMI satellite (HMI_OLED-V1) is available for HMI applications. It comprises an OLED display as well as audio, touch, and SD/MMC functions. In conjunction with the COM (communication) satellite, it can be enhanced by Ethernet, CAN, and RS485 functions.
The manufacturer recently launched the FM3touch library for applications based on the FM3 ARM® CortexTM M3 MCU family by Fujitsu. It enables the realization of a modern, capacitive touch screen with extensive functions and an aesthetic design.
For example, the FM3touch library allows the design of buttons, slides, and touch pads with a minimum of additional hardware and software. Thanks to flexible sensor grouping, there are numerous layout options here. In addition to a simple on/off status indication, the signal strength of each touch sensor can also be read. It is also possible for a notification function to be triggered when a button is pushed or a slide is moved.
The 12-bit analogue-to-digital converter (ADC) in all FM3 micro-controllers ensures fast data capture, high sensitivity, and a low system load. One or two more ADC converters ensure the required level of flexibility and resource availability. The configurable drift calibration guarantees stable operations.
Touch-sensitive metal
Microchip offers a whole range of touch solutions with the name mTouch. A technology which even enables the realization of metal surfaces with touch functions is particularly noteworthy: The Metal Over Cap touch system. This involves placing a conductive surface which acts as a second capacitor plate over the capacitive sensor. If this surface is touched, the distance between the surface and the sensor decreases. The capacitance changes and the micro-controller computes the touch. The conductive surface can be a thin piece of metal or a piece of plastic with a metal coating. This allows the power-saving properties of the capacitive touch technology to be exploited for touch applications with metal or plastic surfaces. The user interface can be flexibly designed to carry Braille writing, for example. It works if the operator is wearing gloves and even under water.
www.rutronik.com