Microchip announces the availability of its MPLAB® Code Configurator, a new code development tool which accelerates application development using 8-bit PIC® microcontrollers (MCUs) and enables developers to enhance the design experience with custom application development.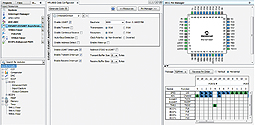 The MPLAB Code Configurator is a user-friendly plug-in tool for the MPLAB® X Integrated Development Environment (IDE) that generates drivers for controlling and driving the peripherals inside PIC® microcontrollers, based on the settings and selections made in its user interface. A key feature of this tool is that it produces the peripheral starter code which is easy to migrate between similar peripherals and products. The generated driver functions can be used in many different application programs providing a very powerful and extremely easy-to-use development platform.
The Code Configurator simplifies development efforts, accelerating time to market for customers designing with 8-bit PIC® microcontrollers. Additionally, the tool offers many new and powerful features that provide customers with flexible code creation options to solve application development obstacles efficiently and at a minimal cost. Designers looking to get to market quickly can benefit from this easy-to-use code development solution, which is better able to meet ever-shorter product design schedules and decreasing budgets. With such a broad feature set and flexibility, the Code Configurator is an excellent general-purpose code development tool.
Microchip Technology
www.microchip.com/get/DWAV