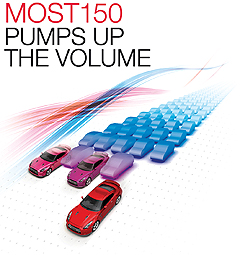 Microchip announces that it has made available for license, on a royalty-bearing basis, its proprietary MOST150 Data Link Layer Specification. By making the key technologies available for the lower layers of MOST150, other semiconductor companies now have the opportunity to develop, manufacture and supply chips with a MOST150 interface.
The open MOST® standard for network communication is used in the infotainment and driver-assistance domain for automobiles and other applications that have been developed by and within the MOST Cooperation, a consortium of key automotive companies and suppliers. As is typical for standards-based technologies, there is complementary technology and intellectual property that is important for implementing standards-based products, though they are not part of the standard itself.
As committed and communicated by the MOST Cooperation on Oct. 1, 2007, the data link layer specifications of the respective MOST standard speed grades will be opened and licensed after reaching certain defined milestones. In the spirit of open technology innovation, Microchip has decided to release and license the MOST150 data link layer specification earlier than stipulated by that 2007 agreement, to encourage other semiconductor companies to participate in MOST150 development. Currently, there are more than 150 car models on the road with MOST technology, and the MOST Cooperation expects that there will be over 60 more car models with MOST150 starting mass production within the next three to five years.
Key Advantages
• Enables other semiconductor companies to develop, manufacture and supply chips with a MOST150 interface
• MOST150 is the latest technology from the Media Oriented Systems Transport (MOST®) open standard
• Over 150 car models currently use MOST network communication for infotainment and driver-assistance systems with a further 60 models anticipated over the next 3-5 years
Microchip Technology
www.microchip.com/get/DER6