Microchip announces a new addition to its Human Interface Input Sensing Solutions portfolio with a standalone integrated high-voltage line driver to increase Signal-to-Noise Ratio (SNR) for advanced projected-capacitive touch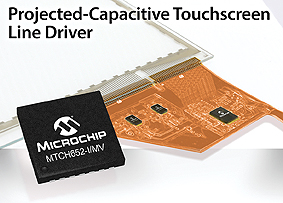 performance: the MTCH65X.
The MTCH652 features an integrated boost converter and can interface to any touch controller via SPI to drive up to 19 Transmit (Tx) channels at selectable voltages up to 18V to increase the SNR in projected-capacitive touch systems. The improved SNR increases the robustness of the system in noisy environments, allows thicker cover lenses, and reduces the number of samples and time required by the touch controller to scan large displays. These capabilities are especially important in demanding environments such as white goods, including washing machines, refrigerators and security panels; automotive systems such as dashboard infotainment and navigation controls; PC peripherals such as touch pads and displays; and industrial controls including machine interface markets, among others.
Also announced, Microchip's new 3DTouchPad, DM160225, incorporates the new MTCH652 and demonstrates its advantages including advanced touch performance in a noise-robust design. The MTCH652's higher SNR enables Electromagnetic Compatibility (EMC) resistance and is a versatile companion chip to advance multi-touch performance.
The MTCH652 provides the industry with a simple high-voltage boost solution that can improve robustness and increase the sensor sizes for today's touch controllers with support for displays up to 24 inches. The wide range of input and output voltages supported, combined with the ability to daisy-chain the MTCH65X devices, provides more design flexibility. The MTCH652 is supported by Microchip's new 3DTouchPad (DM160225) which is priced at $99.00 and is available to order today with free downloadable software under the Documentation & Software section at http://www.microchip.com/get/G1WH.
Microchip Technology
www.microchip.com/get/T1U7