Microchip announces a new parallel Flash memory device – the SST38VF6401B. The SST38VF6401B is a 4M ×16 CMOS Advanced Multi-Purpose Flash Plus (Advanced MPF+) device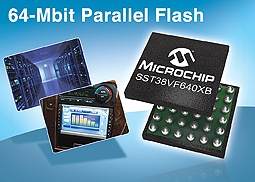 manufactured with Microchip's, high-performance CMOS SuperFlash® technology, a split-gate cell design and thick-oxide tunnelling injector for better reliability and manufacturability. This device conforms to JEDEC standard pin assignments for ×16 memories.
With an operating voltage range from 2.7 to 3.6V, fast read and programme times, and advanced protection features this parallel Flash memory excels in a variety of applications. The memory is partitioned into uniform 32KWord and non-uniform 8 KWord blocks, offering flexible erase capabilities and seamless partitioning for programme code and data.
The SST38VF6401B parallel Flash memory offers high performance with flexible read and write options, including random read access time of 70ns; page read access time of 25ns; erasing sectors and blocks as fast as 18ms; erasing the entire Flash memory chip in 40ms; a word-programming time of 7µs; and a write-buffer programming time of 1.75µs, typical. The device offers superior reliability of 100,000 endurance cycles, typical, and greater than 100 years of data retention. The active read current of these devices is only 25mA, typical, at 5MHz, and standby current is only 5µA, typical. The SST38VF6401B also provides various levels of protection and security features such as Security-ID, hardware boot-block protection, individual block protection, password protection, and irreversible block locking.
Microchip Technology
www.microchip.com/get/B720