Microchip announces the expansion of its eXtreme Low Power (XLP) PIC® microcontrollers (MCUs) with the PIC24F "GB2" family.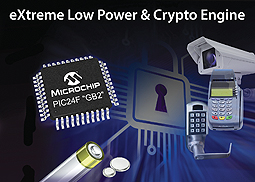 This new family features an integrated hardware crypto engine, a Random Number Generator (RNG) and One-Time-Programmable (OTP) key storage for protecting data in embedded applications. The PIC24F "GB2" devices offer up to 128 KB Flash and 8 KB RAM in small 28- or 44-pin packages, for battery-operated or portable applications such as "Internet of Things" (IoT) sensor nodes, access control systems and door locks.
Several security features are integrated into the PIC24F "GB2" family, to protect embedded data. The fully featured hardware crypto engine, supporting the AES, DES and 3DES standards, reduces software overhead, lowers power consumption and enables faster throughput. This is another example of Microchip's Core Independent Peripherals, which can run with no CPU supervision. Also, a Random Number Generator creates random keys for data encryption, decryption and authentication, to provide a higher level of security. For additional protection, the One-Time-Programmable (OTP) key storage prevents the encryption key from being read or overwritten. These security features increase the integrity of embedded data without sacrificing power consumption. With XLP technology, the "GB2" family achieves 180 µA/MHz Run currents and 18 nA Sleep currents, for very long battery life in portable applications.
For connectivity, the "GB2" family integrates USB for device or host connections, as well as a UART with ISO7816 support, which is helpful for smartcard applications.
Key Facts:
• New PIC24F "GB2" MCUs enable secure data transfer and storage in portable embedded applications
• On-chip hardware crypto engine, random number generator and one-time-programmable key storage supports enhanced security
• eXtreme Low Power (XLP) technology minimises power consumption for longer battery life
• Compatible with Microchip's embedded wireless solutions to enable low-power wireless connectivity for Internet of Things applications
Microchip Technology
www.microchip.com/get/GNUT