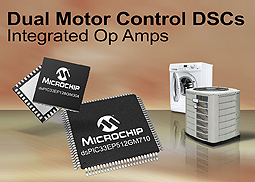 Microchip announces a new family of dsPIC33 Digital Signal Controllers (DSCs): the dsPIC33EP512GM710 family. This is an expansion of Microchip's dsPIC® DSC portfolio that adds higher levels of integration for motor-control applications. The new family of DSCs enables efficient dual motor control with 12 motor-control PWM channels (6 pairs), dual 12-bit ADCs, multiple 32-bit quadrature encoder interfaces, and two CAN modules. With this level of integration, the dsPIC33EP512GM710 family can independently control two motors with a single microcontroller (MCU) for optimised system costs.
This family can also serve as a communication hub for automotive or industrial applications to connect with multiple CAN busses.
This family expands the existing dsPIC33EP families by supporting 512 KB Flash, 48 KB RAM, and four operational amplifiers (op amps). Other features of this family include enhanced analogue functionality with two independent ADC modules, configurable as 10-bit 1.1 Msps with four sample and holds, or 12-bit, 500ksps with one sample and hold, supporting up to 49 channels. This analogue integration enables advanced sensor applications that require multiple precision ADCs with several sample and holds as well the processing power of a DSP.
The dsPIC33EP512GM710 family also includes a Peripheral Trigger Generator (PTG) for scheduling complex, high-speed peripheral operations which saves software cycles and reduces firmware complexity. The dsPIC33EP512GM710 devices enable more efficient, less expensive designs for appliances such as air conditioners, washing machines, dishwashers and refrigerators; for automotive cooling fans, fuel pumps, water pumps, and sensors; and industrial equipment including embroidery machines, lathes and printers, as well as other applications.
The dsPIC33EP512GM710 family is supported by Microchip's dsPICDEM MCLV-2 development board (DM330021-2) and dsPICDEM MCHV-2 development system (DM330023-2) with the new dsPIC33EP512GM706 Single-motor Internal Op Amp PIM (MA330033). For non-motor control applications, a new dsPIC33EP512GM710 General-purpose PIM (MA330035) is offered for Microchip's Explorer 16 development board (DM240001).
Microchip Technology
www.microchip.com/get/V37V