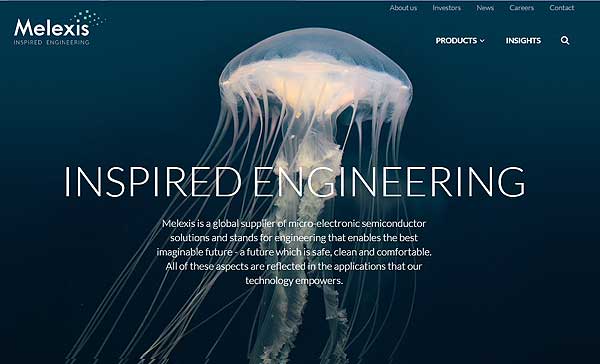 Melexis presents its new brand identity and website. The new brand underlines the company's ambitions and draws inspiration from the incredible capacity of species to adapt to challenging habitats. "We recalibrated our brand to reflect not only the company we are today, but also our expectations for tomorrow. Our new identity is a clear declaration of our belief in engineering that enables the best imaginable future," says Melexis, CEO Françoise Chombar.
With the unveiling of  the new Melexis brand identity and website, the blue and yellow color palette of the former brand makes room for use of contemporary and classic colors such as royal blue and – not coincidentally – electric green. With the new logo also comes a new tagline: 'Inspired Engineering'.
"A brand is a promise about what we are and what we aspire to be. We found that the promise of Melexis could be summed up in those two simple words: Inspired Engineering," Françoise Chombar further comments. "It is the foundation of our success and our continued growth, but it is also our ongoing mission statement. With our technology we want to help customers to create ground-breaking, highly-differentiated end products that are safe, clean and comfortable. Our aim – to provide innovative technology and add real value to customers worldwide – is still very much the driver behind everything we do."
Inspired by nature
The new Melexis brand materials take inspiration from nature, specifically the evolutionary abilities of species to thrive in harsh and uncompromising environments. Divided into three classes – 'Sense', 'Drive' and 'Communicate' – the Melexis product portfolio is represented metaphorically by animals that possess attributes that are almost supernatural.
As Elcke Vercruysse, Marketing Communications Manager at Melexis, explains "We focused on species with amazing capabilities that have clear parallels to the world of technology, but that are not widely known."
Some examples include:
The hammerhead shark, which utilizes electro-location to detect prey, is a stimulus for engineers developing advanced sensing solutions – this characterizes Melexis' industry-leading 'Sense' products
The hummingbird, with its ability to flap its wings around 50 times per second, reflects the motor/control drivers and actuators in the Melexis portfolio – which is covered by the company's 'Drive' element.
Finally, the way ants employ scented chemical secretions (pheromones) falls clearly in the 'Communicate' category, representing solutions from Melexis in the area of wireless and wired devices.
Co-created with colleagues worldwide
The new brand identity was co-created with team members from all the various disciplines across Melexis' global operation. "It was important for us to involve team members from across our business to make sure the new brand is widely supported throughout the organization," states Elcke Vercruysse. "Our new identity shows our ambitions for the future, but at the same time it is firmly rooted in our past and present. That is why it resonated strongly with all our colleagues when we first presented it, and why we are confident it will resonate with all our other stakeholders and customers."
Melexis
melexis.com