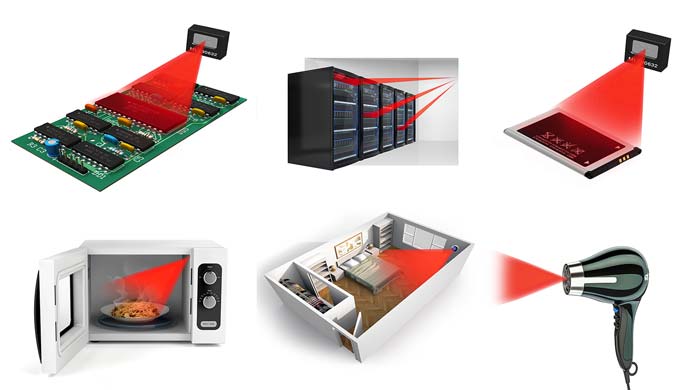 Melexis, a global microelectronics engineering company, announces a new family of miniature far infrared (FIR) sensors for use in multiple applications where accurate temperature measurement is required.
The MLX90632 family is based upon Melexis' established FIR technology that utilizes the fact that every object emits heat radiation. The ultra-small integrated thermopile CMOS IC is a complete solution in a single 3x3x1mm QFN package including the sensor element, signal processing, digital interface and optics thereby allowing rapid and simple integration into a wide variety of modern applications. The highly accurate device delivers high levels of thermal stability when experiencing thermal gradients and rapid temperature changes, thus solving a well-known weakness of existing infrared sensors. In addition, it offers a surface mounted (SMD) package compatible with standard PCB assembly techniques.
The first commercial grade version of the MLX90632 family has been released today.  Future versions of the MLX90632 will address, amongst others, very stringent requirements of medical applications.
Smart device manufacturers can differentiate their products through the inclusion of accurate temperature measurement. Melexis has integrated an optical lens into the device that reduces the field of view, thereby enabling a higher operating distance and greater measurement accuracy.
The MLX90632 will be used wherever it is important to accurately measure temperature, especially in thermally dynamic environments and when available space is limited. Potential applications can therefore be found in white and gray goods, room temperature monitoring in smart thermostats, server rooms or integration into portable electronics devices such as tablets and smartphones.
Melexis   |   www.melexis.com