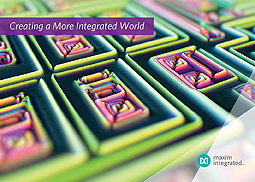 At the 2014 Embedded World Exhibition and Conference in Nuremberg, Germany (February 25 – 27, 2014), Maxim Integrated Products, Inc. will demonstrate the unique advantages of highly integrated analog solutions. Maxim hosts interactive demo kiosks with embedded solutions for energy management, power management, and the signal-chain. All Maxim products feature high integration for substantial savings in space, cost, energy, and time to market.
With the compact MAX78700/ MAX78615 energy-measurement chipset, designers can measure AC or DC power usage without additional bulky sensors, optocouplers, or an extra power supply for the measurement subsystem. When embedding high-voltage AC (or DC) measurement into a design, isolation must be maintained. This traditionally required power and data isolation components. Instead, Maxim's energy-measurement chipset integrates a unique isolated interface between the high-voltage analog (MAX78700) and low-voltage digital (MAX78615) domains for significant reductions in size, complexity, and cost.[/url]
Maxim's high-voltage buck regulator family, MAX17501/02/03/04, offers high efficiency across a wide industrial voltage range and is compliant with IEC 61131-2, IEC 61508 and IEC 60664 standards. These products bring synchronous rectification to 60V buck regulators for industrial control and automation applications that operate over 24V but need to withstand 60V operation.
Maxim Integrated
www.maximintegrated.com