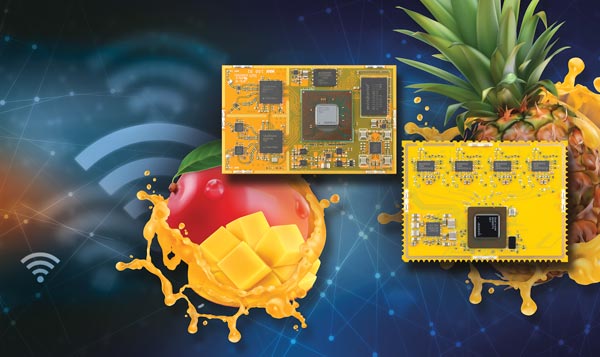 802.11ax, also known as WiFi 6, succeeds 802.11ac (WiFi 5) and thus now presents the 6th generation of the WiFi standard, which was first publicly established on the market in its birth year of 1999 with version 802.11b. With the new generation, the standard has also been consistently further developed and continues to build on the advantages of WiFi 5 in terms of efficiency, flexibility and scalability. WiFi 6 also offers higher speeds and capacities compared to WiFi 5 and thus forms the foundation for future-oriented networks.
In the course of this, 8DEVICES has developed two new module solutions, both based on the latest WiFi 6 chip generation from Qualcomm. Mango follows the approach of a SOM (System on Module), where the application can be completely integrated on the module. Pineapple, on the other hand, follows the radio module approach, i.e. it only offers the radio technology, a host processor, memory and peripherals/interfaces are required to run an application.
Admittedly, the names Mango and Pineapple do sound a bit exotic and are more reminiscent of a beach vacation in the Caribbean than of 6th generation WiFi solutions. However, if you look through the IEEE standardization documents of WiFi6 and internalize the underlying complexity and performance, the term exotic no longer seems too far-fetched for module solutions that master this technology 100%. So let's be surprised.
Mango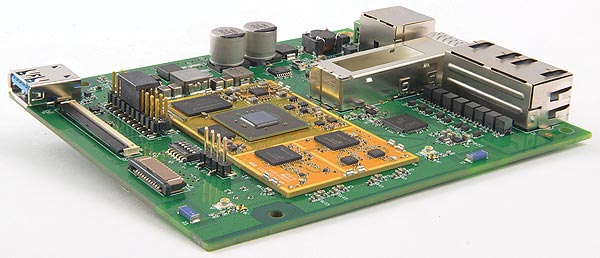 The SOM approach called Mango is based on Qualcomm's new SoC family IPQ60xx.  The user has access to 4 x Cortex-A53 clocked with 1.2 GHz or 1.8 GHz. Furthermore, 512 MB DDR @ 933 MHz and 32 MB NOR Flash are available. In contrast to other SOM solutions, where the NAND flash memory is directly integrated on the module, Mango requires the connection of an external NAND memory device. However, this also results in a small advantage, because the user can dimension the memory size for his application himself and is not confronted with any memory restrictions.
2 x PSGMII, QSGMII and SGMII+ interfaces are available for the connection of Gb Ethernet. On the other hand, the interfaces 64xGPIO, 1xPCIe 3.0 (Mango-I only), 1xUSB3.0, 1xUSB2.0, 2xUART, 3xSPI, 2xI2C, 4xPWM, 1xJTAG, 1xI2S/TDM and 1xSDIO3.0/eMMC are fully integrated and don't need any external driver devices to run these interfaces. In terms of WiFi, Mango supports 802.11 b/g/n/a/ac standards in addition to 11ax and offers multi-user MIMO 2×2 mode with DBS (Dual Band Simultaneous). Mango is available in two versions:
Mango: CPU clock @1.2GHz, without PCIe, temperature grade 0°C to +65°C
Mango-I: CPU clock @1.8 GHz, with PCIe, temperature grade -40°C to +85°C
Samples and DVKs are available in our sample shop:
https://www.codico.com/en/mango
https://www.codico.com/en/mango-i-industrial-temperature-grade
https://www.codico.com/en/mango-dvk
Pineapple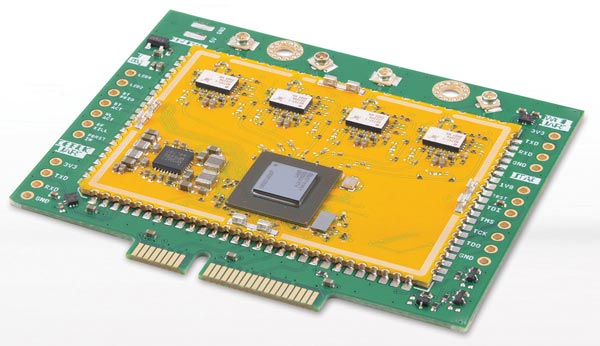 Pineapple is based on Qualcomm's brand new QCN-9074 radio IC, which supports 3 bands 2.4GHz, 5GHz and 6GHz (WiFi6E) in a 4×4 MIMO antenna configuration via a PCIe interface.  Accordingly, 8DEVICES offers 3 variants with the following product names corresponding to the bands:
Pineapple 2: 2400-2500MHz
Pineapple 5: 4920-5925MHz
Pineapple 6: 5925-7125MHz
Pineapple 5 and 6 support up to 27 dBm per antenna @ HT20/40/80/160, while Pineapple2 supports up to 28 dBm per antenna, but is limited to HT20/40. Pineapple 5 and 6 achieve a maximum data rate of 4804 Mbps in an HT160 and MIMO 4×4 configuration. Pineapple2 is still at a maximum of 1147 Mbps with HT40 and MIMO 4×4.
All 3 variants have in common that each is offered in 4 different package designs. The LGA package, with a small form factor of 35x47mm, offers space-saving integration on a carrier PCB, where the antennas can be connected to the 4 antenna pads of the module in the form of U.FL connectors or in a PCB antenna design. In addition, 3 other versions are offered as plug-in cards in a 50x61mm form factor with a mini-PCIe, M.2 A+E or M.2 B+M interface, where 4 x U.FL connectors are already integrated on the cards. This results in 3 x 4 = 12 different module designs. If it is taken into account here that in the course of the year each version will also be available in the industrial temperature grade -40°C to 85°C (the current solutions offer 0°C to 65°C), this results in a total of 24 different module variants. Also encouraging is the news that all modules will be supported by the Linux mainline driver from version 4.4.60 upwards. Of course like Mango, all modules will be certified according to RED, FCC and IC in the course of the year.
Samples for Pineapple 5 and 6 can be ordered in our Sample Shop:
https://www.codico.com/de/pineapple5
https://www.codico.com/de/pineapple6
More information about Mango and Pineapple is provided on our official support page:
https://downloads.codico.com/misc/AEH/8DEVICES
Contact:
Gergely Balogh
gergely.balogh@codico.com
+36 30 867 0687
CODICO | www.codico.com |  https://www.codico.com/shop