For years, productronica has been known in the industry as the place to see the latest trends. What are this year's major trends?
Just like in 2019, productronica 2021 will highlight the Smart Factory, that is, the digital transformation of production plants, as one of our trend topics. Other focal points will be the Internet of Things (IoT), 5G/6G, microelectronics, electromobility and autonomous driving. Our exhibitors will be far from the only ones who will focus on these topics. Our supporting program—something that we are organizing with the help of the German Mechanical Engineering Industry Association and the German Electrical and Electronic Manufacturers' Association, among others—will also explore these topics of the future.
Obviously, the pandemic has made it much harder to organize trade fairs. Why should in-person trade fairs be held once again despite this, and how can you simultaneously offer digital added value in times like these?
There is no doubt about it: The biggest payoff of in-person trade fairs is the contact that you have with other people: You can stand in front of an individual and literally look him or her in the eye. It is definitely something different from a video conference. LIVE demonstrations are really what mechanical engineering trade fairs are all about anyway.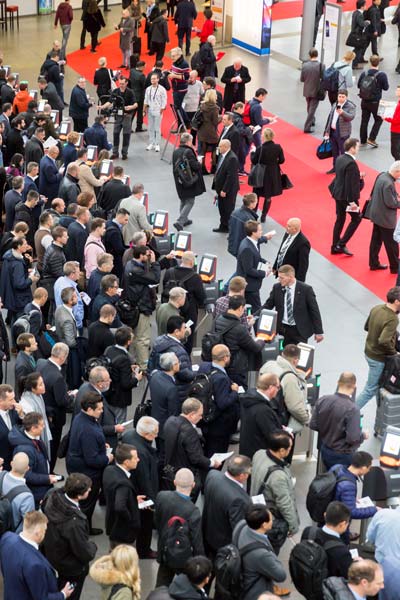 Our customers have also indicated to us on many occasions that digital activities simply cannot replace in-person events. Direct, personal contact is more important than ever following the coronavirus pandemic.
The past 18 months and the special situation we faced have certainly given a boost to digitalization around the world and drawn attention to alternative marketing possibilities. As a result, complementary digital activities will be a key aspect of events in the future. They will give our exhibitors the chance to showcase their products and services outside the trade fair's normal schedule but still within the context of the event itself. For this reason, we will offer "productronica online" for the first time this year. We launched this digital event eight days before the in-person event began, that is, on November 8. It will remain online through November 26. This program is the optimal way to digitally complement the trade fair. Exhibitors and visitors at productronica can use it to connect with one another—and this group includes in particular those industry representatives who will be unable to attend in person as a result of continued travel restrictions.
Let's look into the future for a minute. Imagine that it is 4 p.m. on November 19, 2021. The trade fair has just ended, and someone asks you how productronica 2021 went. How would you respond?
I would probably say something like this 15 minutes after the trade fair ended: "Our exhibitors and visitors were really glad that could get together in person once again after going through 18 months of pandemic-driven restrictions and, in particular, could talk business once again. All of the major players in the industry were on board and were more than satisfied about the experience. We all missed our overseas contacts, particularly those in Asia and the United States. But the discussions were quite productive. We are optimistic about the future as a result." I think I would say something along those lines because we had similar experiences at the IAA Mobility and, in particular, at EXPO REAL that was held just recently. productronica 2021 will certainly be a European-focused trade fair. Even so, it will be a great place for the electronics industry to meet.