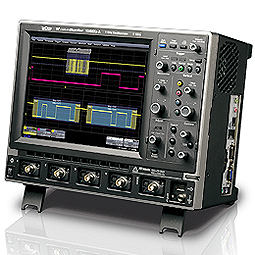 The majority of users of brand-name measuring equipment probably think that top-class instruments are purchased by means of manufacturer's trade representatives. Evolution of sales forms has also reached this group of products. Nowadays, to become an owner of a top class oscilloscope it is enough to click few times on a Website.
At present LeCroy appliances can be purchased in TME online shop (www.tme.eu). The offer comprises of models belonging to several families differing by functional features, technical parameters, screen size and price. This simple form of a purchase does not deprive customers of technical support. Engineers dealing exclusively with measuring devices are always willing to help.
WaveAce
The first group comprises of WaveAce oscilloscopes that is exemplified by the WaveAce 224 model (TME symbol: LC-ACE224). WaveAce oscilloscopes represent a popular class, however, they are characterized by performance quality and multiple measuring functions. They are designed to perform basic measurements in construction laboratories and service stations. The maximum length of the record is equal to 20 kpoints/channel helps intercept in one release 2 or even 3 times more data than in cheaper oscilloscopes. The WaveAce 224A model is equipped with a colored LCD display with a 320 x 240 pixel matrix. This is a 4-channel oscilloscope with the analogue band of 200 MHz and sampling speed of 2 GSa/s (1 GSa/s for all channel, 50 GSa/s in the equivalent mode).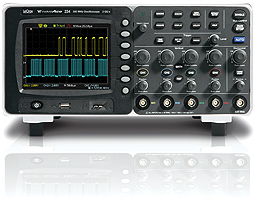 The display of oscillograms is a basic but not the only function of digital oscilloscopes. Every such device, regardless of the class, has also the possibility of making automatic measurements. WaveAce 224A measures simultaneously, in the real time, 32 parameters. Measuring functions are supplemented by cursor measurements and mathematical calculations, such as: sum, difference, product, quotient and FFT spectro analysis with four types of windows. If necessary, input functions are filtered by one of the four types of digital filters available for each channel. These are the following types of filters: low-pass, high-pass, mid-pass and middle-pass. In each channel, a filter limiting the band to up to 20 MHz can be switched on independently.
Pass/Fail Test available in the WaveAce 224A oscilloscope is used in manufacturing lines, commissioning and service work stations. Useful connection with the environment is provided by two USB interfaces (1×Device, 2×Host) and Ethernet.
WaveJet
The second type of LeCroy oscilloscopes available in TME are WaveJet appliances. In comparison to the WaveAce family, these are oscilloscopes offering higher measuring capabilities, but for a higher price. The WaveJet family can be represented by the WaveJet 324A model (TME symbol: LC-JET324A). The first visual element that is distinctive for these appliances is a bigger display equipped with a colored TFT LCD 640×480 pixel matrix (VGA). Parameters that should attract attention of users are: analogue band (in case of WaveJet 324A equal to 200 MHz) and sampling frequency of – 2 GSa/s (1 GSa/s for all channels and 100 GSa/s in the equivalent mode). However, in case of WaveJet family, a very characteristic parameter is the length of the record reaching as much as 500 kpoints for each channel. Such a long record enables interception in one acquisition of up to 250ms of the function for the highest sampling frequency. When compared to the WaveAce family, WaveJet oscilloscopes perform less automatic measurements. Furthermore, some of 26 parameters are defined in a slightly different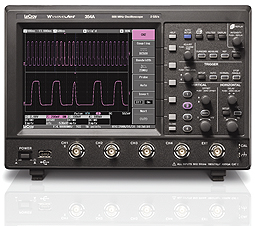 manner. Technical data of devices provide more details. In WaveJet oscilloscopes, it is possible to use cursor measurements and mathematical calculations including the FFT analysis. Also, a 6-digit counter used to measure frequency of analysed functions operates independently. Special measuring mode (Replay Mode) facilitates detection of short-duration disturbances of glitch and runts types. They can be searched in the history of stored frames. The oscilloscope records them with the speed of 3600 frames per second.
Peak Detect acquisition facilitates trapping of even 1-nanosecond pins. Time base scopes provided for the Roll Mode – 50 ms/div…50 s/div (max. 100 kSa/s), on the contrary, help observe very slow functions.
The most commonly used mode of triggering present in all digital oscilloscopes is edge triggering. WaveJet 324A also makes impulse, impulse width, impulse counter and TV signal triggering available.
At present, a standard communication interface in digital oscilloscopes is USB. In WaveJet 324A, this is one device type port and one Host type port. Those ports are used to connect e.g. mass storage devices, PC's and printers. Ethernet and GPIB interfaces are available as an option.
Oscilloscope handling is very simple. It is achieved by: multi-language menu, ergonomic location of control elements, hand wheels coupled with press-buttons. Appliance is ready for operation only after 3 seconds after its switching on. The selection of optimum operation parameters can be done manually or by entering settings recorded previously in a mass memory. The final solution is an AUTO SETUP button which starts automatic selection of the settings.
Wave Surfer
The third group of LeCroy oscilloscopes which is the strongest in TME's range of products is the WaveSurfer family which is here represented by 24Xs. This oscilloscope is available under the TME symbol: WAVESURFER 24XS-A. The WaveSurfer family comprises of top tier appliances which are used for the most sophisticated measurements, but due to high price, are available to a narrow group of users.
A kind of surprise might be very economically designed front control panel, which is somehow in contradiction to declared measuring possibilities of the appliance. It results from the fact that mechanical elements constitute only a part of all control elements. It is because user's interface uses also a touch screen constituting
oscilloscope's equipment. The 10,4" display with TFT LCD 800×600 pixel matrix (SVGA) which not only makes a visual impression, but also, in many cases, turns out to be essential during operation.
The WaveSurfer 24Xs oscilloscope as well as other models from this family, due to the implementation of special measuring functions, is particularly fit for analysis of signals on lines of many popular communication interfaces. The possibilities of the oscilloscope in this area can be proved by the richness of recognized protocols: SPI, I2C UART, RS232, USB, Audiobus (I2S, LJ, RJ, TDM), MIL-STD-1553, ARINC 429, MIPI D-PHY, DigRF, CAN and LIN. The moment of release can be set for particular events existing on interface lines, and their efficient analysis is ensured by the WaveScan Search and Find function. Data search is conducted by means of 20 methods. Finding a specific event is finished with the execution of a specific action. High record (5 Mpoints/channel) makes it possible to analyse a long period of time around the release point, even with the maximum sampling speed which for that oscilloscope is 2,5 GSa/s. The operation in WaveStream mode ensures a 256-level oscillograms brightness modulation, which makes an impression of watching them just like on an analogue oscilloscope.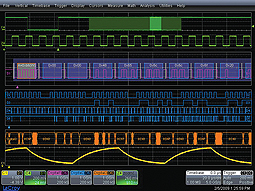 The WaveSurfer oscilloscopes cooperate with high-impedance ZS series active probes ensuring correct observation of high-frequency functions, even up to 1 GHz. Probes are equipped with a number of various tips and also accessories ensuring proper grounding.
Just like in all digital oscilloscopes, WaveSurfer oscilloscope offers mathematical calculations, automatic and cursor measurements.
On the front panel there are separate hand wheels to operate cursors. The oscilloscope's advantage is its ability to operate under Windows system control.
LeCroy is a brand recognized as a leading manufacturer of measuring instruments, including digital oscilloscopes. The appliances made by this manufacturer comprise of multiple, unique, own solutions that improve operation comfort of those complex devices.
More information available at:
Transfer Multisort Elektronik
Tel.: +48 42 645 54 44
Fax: +48 42 645 54 70
export@tme.eu
www.tme.eu