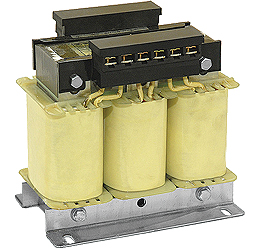 The Transfer Multisort Elektronik range of products has been extended with chokes manufactured by Italian company – Ducati for capacitive reactive power compensation. These components are used in industrial power supply networks in which there are multiple disturbances in the harmonic form (usually generated by non-linear loads, such as rectifiers and welding equipment).
While selecting the reactive power compensation devices, special attention should be paid to possible resonance effects. Capacities in the network together with transformer's winding may create resonance effect operating at the frequency equal to one of the harmonic ones, which leads to excessive loads, and even damage of capacitive elements. In order to prevent this, proper inductance connected serially with capacities that help reduce resonant frequency and dampen any resonances at the higher harmonics. Reactive power compensation is also necessary because the transfer in the low voltage network causes active power losses, that is additional load of generators and all elements of the system and increasing the amount of emitted heat.
Available anti-disturbance chokes manufactured by Ducati, depending on the model, are designed for reactive powers from 10 to 50 kilovars, offer inductance from 3,84 to 0,77mH and operate with the current from 16,3 to 81,5 A. Accurate parameters as well as the prices of all models are presented in the table below.
More information available at:
Transfer Multisort Elektronik
Tel.: +48 42 645 54 44
Fax: +48 42 645 54 70
export@tme.eu
www.tme.eu