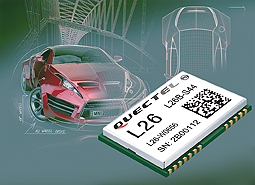 MSC now offers the new L26 multi-GNSS module from Quectel. The new L26 module features ultra low power consumption of only 21 mA in tracking mode/29 mA in acquisition mode and a high sensitivity of -165 dBm in tracking operation/-148 dBm in acquisition operation. The L26 module is based on the MediaTek MT3333 chip and has 99 acquisition and 33 tracking channels. It enables the simultaneous use of the U.S. Global Positioning System (GPS), the globally available Russian counterpart Global Navigation Satellite System (GLONASS) and the Japanese Quasi-Zenith Satellite System (QZSS). The high number of available satellites, the Multi-tone Active Interference Canceller (MTAIC) function for efficient elimination of narrow band interference and noise integrated on the MT3333 and the likewise integrated very low-noise amplifier not only ensure rapid first fixes, but also high positioning accuracy. Thanks to EASY™ (Embedded Assist System), an Assisted GPS technology developed by MediaTek and an innate logger function implemented on the MT3333 chip, no additional external memory is required for safe operation of the L26 module.
The ultra low power consumption, the fast and accurate position detection as well as a wide operating temperature range from -40°C to +85°C make the GPS/GLONASS/QZSS module suited for use in a wide range of consumer, automotive and industrial applications. The L26 module comes in a compact 16.0 mm × 12.2 mm × 2.4 mm form factor.
A comprehensively equipped evaluation board and optional accessories such as micro USB cable and GPS/GLONASS antennas are provided by MSC to allow developers to get started quickly.
MSC Vertriebs
www.msc-ge.com